A set of known RF loads for testing
One of the things we use most in the lab at SOTABEAMS is a set of known RF loads. They are invaluable for testing antenna tuners and much more. Until now, ours have been resistors with crocodile clips. But we can never find the right one, the clips fall off and they get lost. We decided to put matters right by designing this neat little product.
The BOXA-TEST is a versatile piece of test equipment
The BOXA-TEST can be used for:
transmitter alignment and off-air testing,

testing and calibrating VSWR bridges,

checking antenna analysers,

confidence check for network analysers,

testing and comparing antenna tuning units,

testing Endfed Halfwave tuners,

checking baluns and RF transformers,

measuring the loss of co-axial cables

(we show you how in the instructions).
Notes:
some measurements require a VSWR bridge or similar

supplied end plates may be a different colour to the photos
We think the BOXA-TEST will be really handy item to have in any radio shack. Get yours now!
What's inside?
The BOXA-TEST contains four different 5 Watt-rated loads:
50 Ohms - VSWR 1:1

100 Ohms - VSWR 2:1

250 Ohms - VSWR 5:1

5000 Ohms - VSWR 100:1
Each load has its own BNC connector and is rated at 5 Watts, 1 - 30 MHz
The BOXA-TEST is easy to make. Check out the instructions here.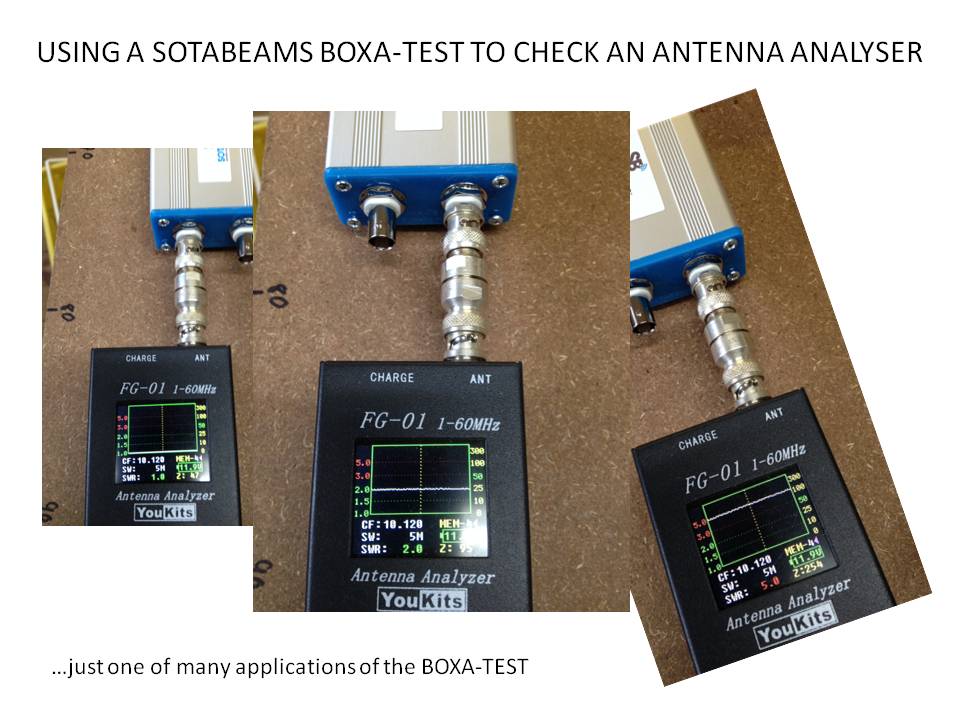 Specification 0-30MHz
Mesurements on typical unit.
50 Ohm Load - return loss > 26 dB (better than 1.1:1)
100 Ohm Load - return loss @ 1 MHz = 9.86 dB, @ 30 MHz = 9.8dB
250 Ohm Load - return loss @ 1 MHz = 3.43 dB, @ 30 MHz = 3.5dB
5000 Ohm Load - not measured.
BOXA Products
All BOXA products are available in three configurations:
1. Board kit: a high quality PCB with all components.
2. Board kit plus enclosure: adds a high quality rugged aluminium enclosure complete with laser-cut front and back panel. No drilling, no metalwork needed!
3. Fully built and tested: the complete product with enclosure, built and tested at our factory. Ready to use.
Very good well made product

Very nice bit of test equipemt and very easy to build, works well.

Construction easy instructions very clear and concise
use in the shack this is one of the few kits that's never on the shelf
its always in use in tandem with an analyzer it has proven to be one
of the best self build sold
canot recommend it highly enough

Construction easy enough, keep solder connections small as otherwise you can foul the internal aluminium channel. A very sturdy useful item to have in shack.

Board kit pluse enclosure

Very impresed.
Instructions were very clear and accuriate
Good quality PCB
Resistance measurments
50 ohm---49 ohm
100 ohm--98.2 ohm
250 ohm--243 ohm
5000 ohm-4900 ohm
Have checked all my cables and ATU's
Highly recomended