Mountain End-fed Half-wave Tuner Kit 40-17m
An end-fed halfwave is one of the most popular and convenient antennas for portable operating. However, most standard antenna tuners cannot match them properly due to their high impedance. That's where our Mountain Tuner comes in!
The Mountain Tuner is our neat little half-wave end-fed antenna tuner. Like all our products, it's designed to to be effective and robust. Weighing in at just 80g (less than 3 oz.), it's light but it's no lightweight. The Mountain Tuner covers the most popular HF bands for portable operating: 40m, 30m, 20m and 17m.
Add an inexpensive half-wave end-fed antenna or make your own and you're good to go!
Features
40-30-20-17 m: all the most popular bands for HF portable operating

BNC socket fitted

Size 125 x 50 x 50 mm

Weight 80 g

Rain resistant design

Mounting holes to enable the tuner to be pegged down or to allow it to be used in an elevated feed system for even better performance

4mm sockets/binding posts for

the antenna and counterpoise allow

easy connections

Calibrated tune knob so that you can record the perfect settings easily for your own antennas

6 Watt rating

High efficiency (loss < 1 dB @ 14 MHz)
Also available from: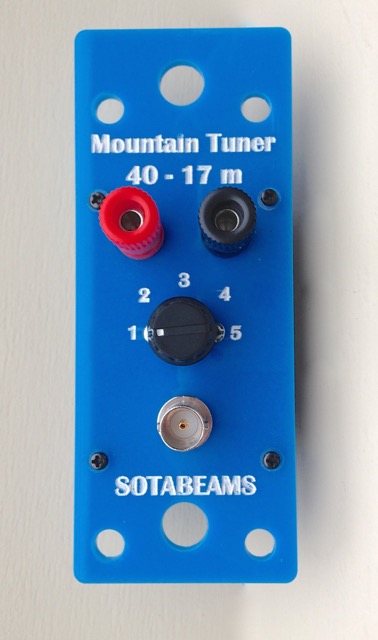 Customisation suggestion: Rene ON7FR paint-filled the front panel of his Mountain Tuner for a great look.
Suggested Accessories
FAQ
Q My radio does not have an SWR meter can I still use your endfed tuner?
A Absolutely! The great thing about our end fed tuner is that the peak when the tuner is correctly tuned is easy to hear. Just connect your antenna, listen on your receiver and tune for maximum noise. It really is that easy!
N/A

MOUNTAIN ENDFED HALFWAVE TUNER 40-17M (KIT)

Easy to build. Testing with antenna analyser FG-01A and a 4700 Ohm resistor between the binding posts gives VSWR 1,1:1 on 40, 30 and 20m. 1,2:1 on 17m and 1,3:1 on 15m.

If you want an easy kit to build, then I would recommend the Mountain tuner. It's not only easy to build it's also easy to use and works great.

Simple Construction, Affordable, Works well!

I knocked this kit together over a couple of nights (I like to take time with things). This is a simple build and i'd highly recommend it to any beginner. I have tested this so far on my rudimentary end fed in the back yard (about 22m of wire) and it works well. Can't wait to try it out in the Trans Tasman contest on the weekend.

I purchased the kit and had a good time putting it together. Whatever you do, don't forget to watch the suggested YouTube video on removing the glass cover on the wire. I assembled a QRPGuys kit and it would not work. After building this kit and viewing the video, I rebuilt the other kit and it works now.
BTW: After I built this kit, it worked. Works good on the 20M end fed I bought with it.

Dead easy to build and simplicity itself to use, just tune for max noise and forget it.

A very nice panel for this kit and simple layout.
And a BNC socket - GOOD!
Afraid I don't like the terminals supplied, they're too easy to become loose from the front side.
So I replaced with some older RS ones with locking tabs.
The toroid required 25 turns in total to get coverage of 40m, at least when I wound it. And it is in use now with a WSPR trial.


reat little kit works really well for my own purpose would have rather had a PL as the connector but it was easy to change. The control knob has a solid feel and importantly stays where it is set to ,in all very good

Wanting a small compact tuner to stash away in the portable grab bag, this seemed to fit the requirements.

All the parts are included in the bag, assembly instructions download from the website, very easy to assemble, all the hardware is ready to mount to, simple wiring and winding of toroid.

Just need some days off to test in the field.