Also available from our international agent(s):

WSPRlite Classic
Covers 630 m through to 20 m
WSPRlite users gain free access to Premium features of DXplorer.net (subject to terms below)
Michael G0POT reviews WSPRlite with DXplorer
Wondering how well your antenna works? WSPRlite with DXplorer will tell you...
The WSPRlite is a special test transmitter that sends a signal to a Worldwide network of receiving stations. When used with our web-based DXplorer system, it's a powerful new way to evaluate antenna performance. Going way beyond antenna modelling or antenna analyzers, this unique system allows you to see how your antenna is performing in its actual location and in real-time! This type of analysis has never been possible before.
Click here for a range of handy accessories for your WSPRlite
Click here for low pass filter options
Uses:
antenna performance testing (great for contesters)

compare antennas

compare locations

test beam antennas

spot openings when you are out of the shack
...all in a way that has never been possible before!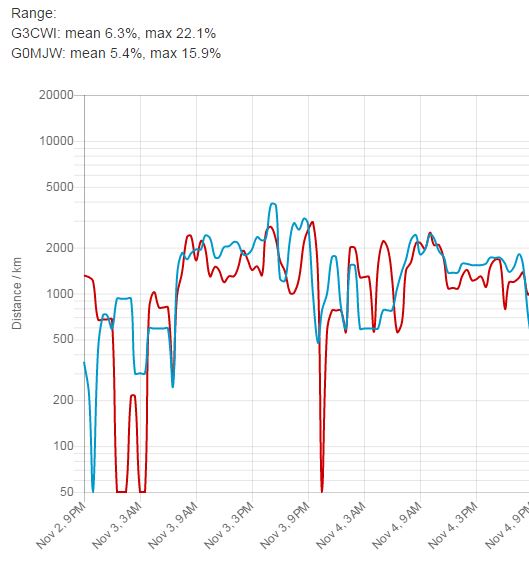 Powerful simultaneous antenna comparisons with DXplorer Premium
Using a simple Windows or Android interface, you program the WSPRlite with your callsign, QTH locator. Once set up, the WSPRlite does not need the computer to operate. Just connect it to a USB power supply (e.g. mobile phone charger), press the "sync" button at the start of any even minute, and off it goes! WSPRlite will make regular transmissions that are automatically received by stations around the world. These stations send their reports to a central website where you can see where your signals are reaching within seconds. Even more fun is to leave your beacon running and monitors its performance using DXplorer on your smartphone or tablet. This is a great way to see how your station is doing when you are at work - or even on holiday!* Take a WSPRlite on your next business trip or cruise and see where it it being heard while you sit at the bar.
What makes our product unique is the ability to compare antennas and location. We use the WSPR data to generate a special metric, DX10. We recalculate your DX10 range (km) every 2 minutes. DX10 is a great system performance indicator! The best HF system will give the longest DX10 ranges. Because you can compare the DX10 ranges for two station in real-time, you can see which one is the best - and by how much. Along with real-time DX10 graphs we calculate a mean and maximum DX10 score for each station - very handy if you make changes to your antennas to see what the changes actually do!
For beam users we generate on-the-fly Great Circle maps that have colour-coded spot locations showing signal to noise ratios. If you are doing a comparison, you can easily see who got the furthest spots and who was strongest!
Hardware
WSPRlite is a self-contained propagation beacon transmitter. Once configured using a special Windows or Andriod app (third party LINUX and Mac support available at WSPRlite Facebook Group), WSPRlite only needs a USB power supply to operate (no need to tie up your computer). WSPRlite operates on 630**-160-80-60-40-30-20m. The unit contains filters for 30 m and 20 m operation. Operation on other bands requires band-specific lowpass filters. We can supply a kit with filters for 160-80-40m . WSPRlite has accurate digital power control over a 16 dB range to facilitate precise measurements of antenna performance differences. WSPRlite is a low power device at only 200 mW but because of the clever encoding of the WSPR signal it has the DX capability of a 1 KW SSB transmitter (80 W CW).
Software
The DXplorer website is designed to operate with WSPRlite. DXplorer provides you with antenna performance information and propagation information in a new easy-to-use format. DXplorer has been optimised for use on mobile devices. Use of DXplorer.net is free for any WSPR user but WSPRlite users access Premium facilities including detailed antenna comparisons.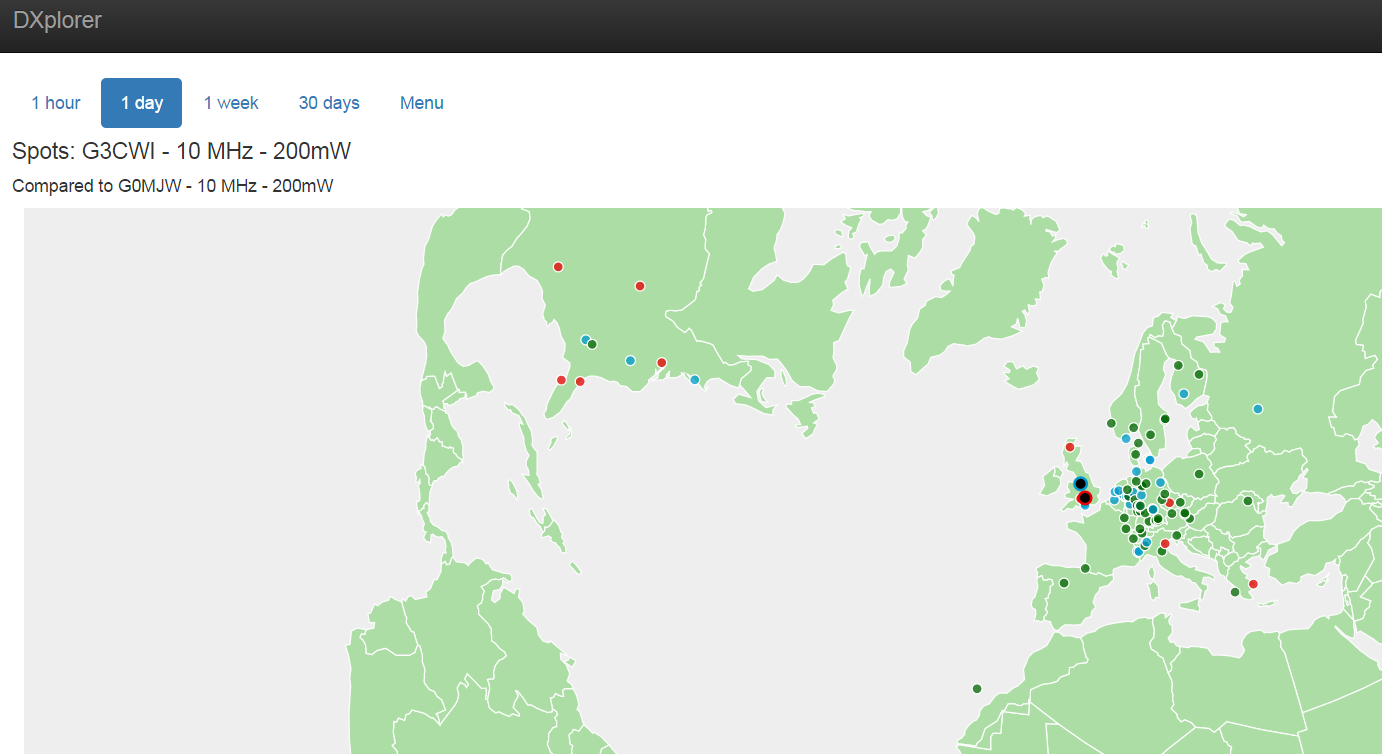 Testing a beam? Let DXplorer show you how it's working
Optional Extras
Low pass filter kit - adds three

extra bands to your WSPRlite

40m, 80m and 160m

Connect your WSPRlite

to your antenna with

a handy adapter.

SMA-SO239 (UHF socket)

Connect your WSPRlite

to your antenna with

a handy adapter.

SMA-BNC socket

SMA leads - various options

BNC, PL259 etc.

Micro USB lead - has data support

unlike many. Guaranteed to work

with WSPRlite!

WSPRlite is not supplied

with a USB lead as most people

have these already.
****************
| | |
| --- | --- |
| | New to WSPRlite and DXplorer? Why not join the WSPRlite Facebook Community to see what people are doing with theirs? It's a good place to get user-community support, share tips and experience. Note that SOTABEAMS does not monitor this group; always contact us direct for support. |
****************
Specifications
40 x 50 x 10 mm
Beacon power: 200 mW (software configurable: 5 mW - 200 mW)
VSWR: better than 3:1 recommended
Maximum reverse power < 100 mW (power levels above this will damage the WSPRlite's USB chip)
Frequency range 630**-160-80-60-40-30-20m (external low-pass filter recommended below 10 MHz)
USB current: 150 mA maximum (5 Volts).
Antenna connector: SMA socket
Power connector: micro USB socket (lead not supplied)
Credits
The WSPR propagation reporter system was conceived and devised by Professor Joe Taylor K1JT
DXplorer uses data freely provided by WSPRnet.org - our thanks to them.
We also thank the hundreds of people who operate WSPR receivers around the World - you make it all possible!
Notes
Our provision of DXplorer relies on free access to data from WSPRnet.org. DXplorer.net is provided "as is". It is not a guaranteed service. It relies on access to third-party data over which we have no control.
*Check local regulations regarding unattended beacons.
**Check local regulations for 630m availability (not currently available in USA May-2017)
Config app tested on Windows 7, 8, 10 and Vista
US customers should operate in accordance with FCC Regulation Section 97.203
____________________
DXplorer, WSPRlite and DX10 are Trademarks of ECS Ltd t/a SOTABEAMS. (C) ECS Ltd 2016. All rights reserved.
Instructions are available HERE!
Using this device is very simple. The configuration software is easy to use, and with just one switch the WSPRLite is even simpler. I wish it worked on more bands, but that would undoubtedly raise the cost from the current very affordable price.

Most fun I've had in ham radio in years!

Works exactly as described. I tried it on my own antennas and those of three other hams in the first week. WSPRnet data is interesting for sure, but doing comparison runs (vs. a WSJT/K3 beacon in my case) the comparison functions of DXplorer are just fascinating! Wish I could give it 6 stars!!

A useful tool which is also fun!

I have used my WSPR Lite for the last 2 days on my 40m dipole. I've had almost 10,000 hits on my 40m dipole inc one from Reunion (10,089km)! I'm delighted with the WSPR and the low-pass filter which was easy to build. My only problem was that my computer clock was 10 seconds fast so I was transmitting too early, so I recommend using the atomic clock at www.timeanddate.com to start the beacon. I can see clearly the best paths and best propagation times.

After a problematic start with a recalcitrant MacBook, a windows 10 laptop and then a different windows 10 laptop configuration was finally managed. Results so far are beyond my expectations and indication antenna changes to adjust radiation patterns.

I strongly recommend that Norton Antivirus users take care as this was the cause of my problems - the config file was classed as 'dangerous' and deleted without any ability to stop Norton doing this. Mcaffee AV had no problems on the third laptop.
Now very satisfied.

Andy

Verry nice for test antenna :)
test my mobile antenna in balcony on 20m 200 mw and spot on USA , yes :)


My antenna is a 1/2 wave dipole for 20M in the loft of a bungalow, so I wasn't expecting much for 200 mili watts, but my 1st transmission was spotted 37 times. Propagation changed over a few weeks and my signals were spotted in Canada and USA.

The wsprlite is very easy to use and it is fascinating introduction to WSPR. A very well designed product.

i have two of these units, one for home shack use, the other is for my motorhome, these two units have found a problem with my home main dipole antenna which has now been sorted out and I am now getting out so much better and reaching distances I never got to be for, I've also managed to set up my many mobile antenna by using the wsprlite that I am reaching all round the world from good camp sites across southern England to places I have not even reached from my home shack yet, and by checking the dxplorer site I can tell at which times are best to put out a C Q call to reach that wanted dx, I would recommend this item to any ham who wants to know just how far and where any of his/her signals are getting out to.

It's fascinating to watch the propagation change over the course of 24 hrs. The WSPRlite is well made and simple to use. The low power settings make for some fun experimentation.

Apart from dabbling in packet radio on 2m in the early 90's with a homebrew Z80 based TNC, I have not had much to do with digital modes - however WSPRLite has changed this overnight. Within a week I was "heard" 9,401 KM away by PY2GN (not to mention hundreds of other stations) - all on 14MHz with 200 mW of power, into an inverted V half size G5RV!!

I would heartily recommend this product - unbelievable.


For better comparison between antenas two items would be the best choice.