Bandspringer Midi HF Longwire Antenna System , 10m-60m
At a glance
Bands

10, 12, 15, 17, 20, 30, 40, 60m with most tuners

Power rating

125 Watts

ATU needed?

Yes

SSB, CW, data?

Yes. Fine for all modes
Details
A great antenna for operators who like to travel fast and light; the new Bandspringer weighs in at just 190g (6 1/2 Oz). It's the ideal antenna to use with a KX3 or KX2 which have an internal antenna tuner.
The current generation of HF portable radios offer great performance on the HF bands—but to get the best out of them, an efficient antenna is required. The Bandspringer is a multi-band long-wire antenna. The length has been carefully chosen to ensure that it will work with the internal antenna tuners in portable radios such as the K1*, KX1, KX2, KX3 and K2. It will also work well with LDG tuners and the Elecraft T1. Note that the Bandspringer must be used with an antenna tuner—it is fine for use with an FT817 or similar radio with a suitable antenna tuner.
If you want to support your Bandspringer on a pole, I recommend our 7m SOTApole. Any pole between 5 and 7m will be fine. Longer poles can be used by extending the nylon cord at the far end of the antenna.
How does it work?
The length is carefully selected to give a moderate impedance at the end for easy matching. It is also designed to ensure that the current section (where much of the useful radiation comes from) is sufficiently elevated. This is the antenna that I used on most of my SOTA activations to become the first activator to complete England, Wales and The Isle of Man.The Bandspringer Midi is guaranteed to work with any tuner on 40m, 30m and 20m. It will work effectively with most tuners on all bands from 60-10m. NOTE: the antenna must always be connected directly to your tuner - not via a co-axial cable.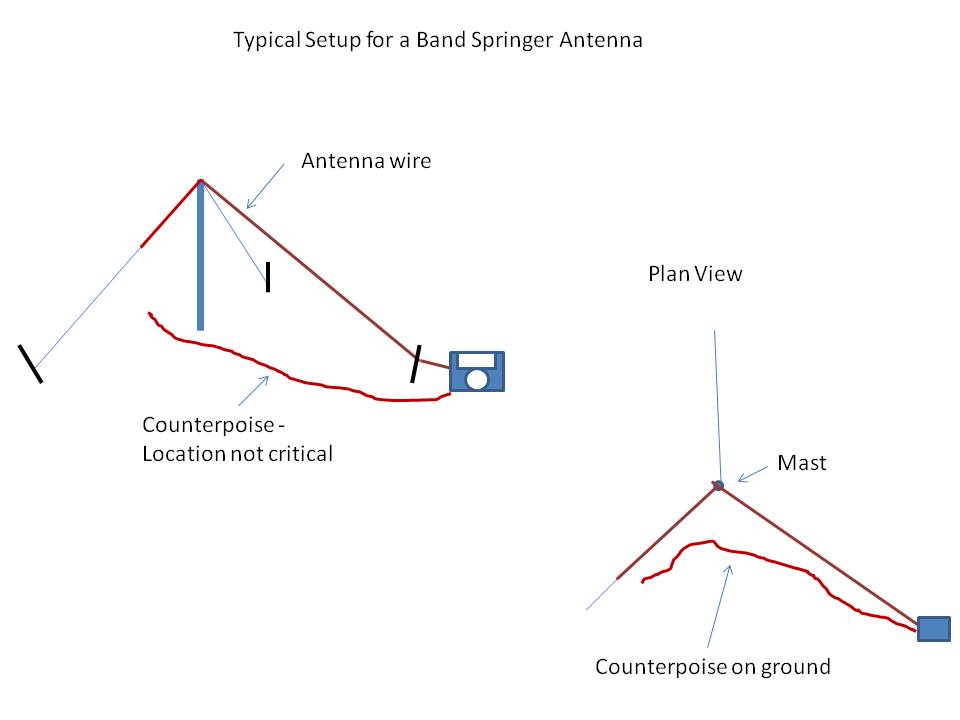 What do you get?
The Bandspringer Midi consists of two wire elements, both are made of high quality stranded wire, insulated with a yellow pvc. This wire type has proved a good compromise between flexibility and performance. The yellow insulating jacket makes it easy to spot on most surfaces which makes handling much easier. The elements for the Bandspringer Midi II version are approximately 42 ft (12.8 m). One element is the radiator the other acts as a counterpoise.

The wire elements are supplied wound on a Wirewinder to make deployment and recovery in the field as easy as possible.The radiating element has a braided nylon cord extension to make it easy to use. The extension is firmly attached to the wire at one end and has a pegging loop at the other end.
Each element is terminated in a good quality 4mm "banana plug".
The Bandspringer is also supplied with:
full instructions

nylon carry bag

three insulators that can be used to attach the antenna to a pole and to our own pegs (supplied attached)

two cable ties - to give more attachment options

two aluminium pegs

one 4mm to BNC Adapter
Note that the colour of the Wirewinders may vary from the picture.
Also available from:

Bandspringer tunes up nicely

Not had it long, but tested by slinging the end out of an upstairs window, and the other half is just lying on the bedroom floor. My Emtech ZM2 tunes up every band quite well.

Very impressed, well made and it works. Set it up with a mini telescopic mast (in my back garden) with the FT-817, and Z817 tuner and was working 2.5 watts of CW into central EU 0n 40.
Have used the Bandspringer on a (fairly) local SOTA hill, not a SOTA activation, but a contest. It's packed down lack of size and weight are a boon for a backpacker, but took up no room at all in the back of my car!!

Was that impressed I bought a Bandhopper 2. Get one while they're hot.....But don't take my word for it...

Have a look at N4CCB's QRP school on youtube

This antenna will not work....PERIOD!!!! I have now spent two weekends trying to get it to work with zero success. No matter how you set it up it will not allow you to tune on any band. My Z-817 tuner works great on any portable antenna but this one.

Buena antena para portable, facil de transportar, producto de calidad, el transporte hasta españa rapido pero el reparto de correos bastante lento, en total 15 dias.

The Antenna did everything I asked of it

Tested with a LNR-MTR5B and Elecraft T1 tuner on 40, 30, 20, 17, and 15 meters. It tuned up quickly and made good contacts and good (mainly) RBN results in line with band conditions. More details in the spreadsheet. Email n4sfr@arrl.net and I will send it to you.

I was initially reluctant to purchase a random wire antenna as I've always like resonate antennas with QRP operations. But eventually I wanted to work more bands so teamed up the Bandspringer Midi with a good tuner. The performance has been excellent and has exceeded my expectations. If you're looking for a great little multi-band antenna this would be the one.

Works Well With The Clansman 320

I made up a simple adapter using a BNC connector and quickly made several contacts into mainland Europe. Very easy to set up and use.

Excellent quality product with great customer service, recommended.

Nick 2E0NVT

Antenna used with a Icom 7300 and internal ATU would not tune any of the Bands
Used a LDG IT-100 Autotuner and this tuned all bands to a 1 to 1 SWR
After seven days of use on holiday this small antenna worked very well Bands
where very flat thought the week but I had some good contacts on 20m 40m 6m and
one day on 10m 
I found this to be a very good antenna quick and simple to erect with a small foot print
very good for portable work You need to check which ATU's that will tune this Antenna
Chris G7TCW 

[Admin comment: thank you for your review Chris. Internal tuners on radios such as the IC7300 are not really intended for tuning wire antennas as they have a limited matching range. Your choice of the LDG tuner is a good one in this case and I was pleased to read that it easily matched the Bandspringer on all bands.]

I received my order within a few days of ordering. It arrived well packaged with all items present. It was well presented in a convenient cloth carrying bag. The instructions were straightforward and it was easy to erect the antenna. While I have limited opportunity to transmit I did notice that it receives signals very well.