Note: Discontinued for now. The variable capacitor we were using in the Pico Tuner is no longer manufactured, so any restocking of the Pico Tuner is dependent on if and when we find a suitable replacement component.

Pico Tuner Kit - End Fed Halfwave Tuner
Review video from Peter VK3YE - also check out his book!
_________________________________________________
End fed half wave antennas are understandably popular for portable operating. Our Pico Tuner is the smallest 10 Watt rated tuner for these antennas. The Pico Tuner is a single-band tuner that can be configured to operate on any frequency between 7 and 30 MHz (40 m - 10 m).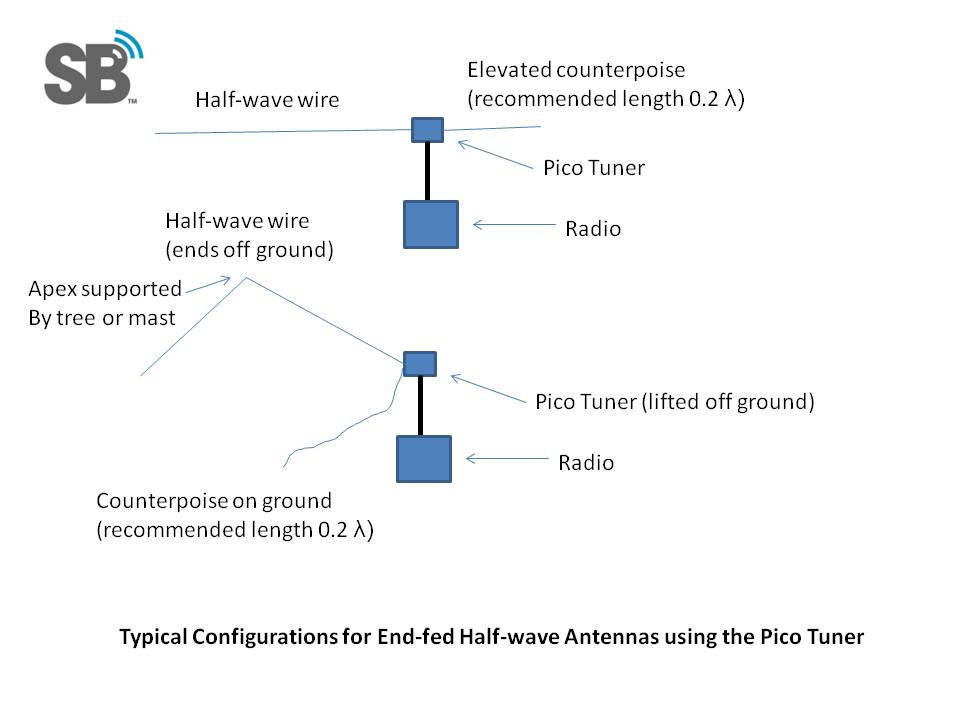 The Pico Tuner uses high quality components for low loss operation. Building is easy with clear online instructions. We also supply a test resistor to allow you to set up the tuner before attaching your antenna. The Pico Tuner uses an isolated link coupling arrangement with floating antenna terminals for best performance - as recommended by antenna expert Tom, W8JI. The Pico Tuner pcb incorporates strain relieved attachment points for the the antenna and, importantly, a counterpoise. We recommend a counterpoise length of 0.18 wavelengths. Unlike many 5 Watt end-fed tuners which use film dielectric capactitors, the Pico Tuner uses a rugged 200 Volt ceramic trimmer in parallel with a specially selected 200 Volt high Q surface-mount RF capacitor to give a 10 Watt rating - ideal for KX-3 users. Click here to download the instructions.
The Pico Tuner is designed to be fed with RG-174 co-ax and this is also strain relieved on the PCB. The RG-174 co-ax is not included in the kit.
This guide shows how to solder the 0805 capacitor - it is actually quite easy!
Don't Miss Out on these Great Options
Add neat enclosure kit for your Pico Tuner (product option above)

Ready-made RG-174 co-ax cables. Details here.
Specifications:
Power rating - 10 Watts
Bands - any single band 7 - 30 MHz.
PCB size - 18 x 57mm (0.7 x 2.25 inches)
Weight - 3 grams (<0.15 oz.) approx.
Ideas for Experimenters:
If you don't like surface mount capacitors, you can use the test resistor holes to mount a leaded capacitor (not supplied).

If building your Pico Tuner for 10-12-15 m you could leave out the 100pF capacitor and just use the trimmer. You will have to use more turns on the toroid to resonate it of course. As a start try 21 MHz - 22T, 24 MHz - 18T, 28 MHz - 16T. These values based on trimmer set half way (~25 pF).

If you replace the toroid with a T50-10 mix (not supplied) and just use the trimmer, the Pico Tuner should work on 6 metres. Try 9 turns on the toroid as a start.

While the Pico Tuner is designed as a single-band tuner, multi-banding is possible. I did the math and 12m-10m, 15m-12m, 17m-15m look possible (trimmer in parallel with 100pF). If you don't install the 100pF SMD capacitor (or use a lower value padding capacitor) other possibilities arise.

I have also included a second set of SMD capacitor pads on the Pico Tuner which would allow experimenters to install additional padding capacitance to allow the use of bands lower than 7 MHz. Bear in mind that in such cases, the tuning range will be reduced.
Also available from our international agent(s):



Fun to build without any stress, instructions are clear and it works.

I soldered the tuner and made a EFHW antenna for 20 meter in about 3 hours. The instructions are very good. I managed to get a SWR of about 1.6:1 on the lower part of 20m band, all band is under 2.0:1. In one hour I did get 50 reports on FT8 with 2.5 watts from a FT817ND. You can not get any cheaper and better then this to be QRV on one band without an automatic tuner. My highest recommendation!

A super little kit which consists of good quality components and is reasonably straightforward to construct. An antenna analyser is recommended but a QRP radio with SWR meter will do just as well. I'm very much looking forward to getting this out on 40m with my "tuned up" FT-817 shortly. :-D

I have built two tuners now. One tuner for 40m and one for 20m. With a little practice is it no problem to build pretty good QRP antennas with very rewarding SWR measurements.

Configured For the 20m band,Very pleased with first test,whilst portable in se Uk today.Using a Ft 817 first contact was Kansas City.

Great start for a QRP antenna kit

This is a nice kit to help get you started making a light weight antenna. It is simple to assemble. The instructions were clear. Made a nice lightweight antenna for 40m using this and the silky wire.

Easy to Build and Lightweight - Must Have in your Kit

This is a must have in your kit and with some #26 silky wire it can be very lightweight. The build is very simple with excellent instructions. High quality PCB makes soldering easy. Nice companion to the WSPRlite for some beacon-in-the-field operations and propagation experiments

Very touchy to get the approx 200kHz 2:1 VSWR bandwidth centered just right with the tiny variable cap. I put mine at 14.075 which spans the CW portion with a little room to spare. But once it's there, you can coat the whole thing with Liquid Electrical Tape, or put it in an enclosure and it's perfect. I've been using it with my MTR3B on 20m and it's just what you need for a pocket sized Ham station.

I have tried 2 Pico Tuners for QRP operation, and relied on them very much. Now I ordered 4 more with enclosures. Pico becomes very lightweight so I strongly recommend you its genuine enclosure. Thank you.

wouldn't an air variable (more range) be good for the cap? or is this not recommended. I have not been on the air for many years due to antenna restrictions and no budget for radios. I have some (Wilderness Radio) qrp radios that I built and used with the mfj tuner, but was cumbersome and inconvenient. THis gives me incentive to walk to the beach and maybe contact vk3ye with my kite antenna.