Variable Audio Filter Module
NEW Dennis KG4RUL has developed an Arduino sketch for our Vari-filter; this includes a nice display. Download the sketch here and a PDF circuit diagram here. It utilizes a SODIAL USB Nano V3.0 ATmega328 16M 5V Micro-controller CH340G board, or similar, available from Amazon and other sources and an OLED display module such as the HiLetgo 1.3" IIC I2C Serial 128x64 SSH1106 OLED LCD Display LCD Module for Arduino AVR PIC, or similar. Dennis is happy to share this but cannot offer any support - so please do not contact him.

NEW Magazine review - Practical Wireless, used with permission.
Our LASERBEAM-VARI digital variable audio filter module is the perfect addition to your project or even to your existing radio. Unlike analogue filters, digital filters provide near-perfect characteristics. Because of the way that they are implemented, they are better than analogue filters in almost every way!
W2AEW reviews the LASERBEAM-VARI
LASERBEAM-VARI Modules been designed for ease of use. One simple control allows you to continuously vary the bandwidth or the centre frequency of the filter. All settings produce the same great filters with flat passbands and steep skirts. Whether you need passband tuning, filters for digital modes and APRS, low pass filters or CW filters, the LASERBEAM-VARI does it all in one compact module. Dial up EXACTLY the filter you need.
Bandwidth 200Hz - 3500Hz
Max Passband

200Hz - 3500Hz

Indicator outputs for tuning mode (bandwidth or centre-frequency)

On board overload indicator

User-defined power-up filter settings

Two gain settings
Great for all modes: SSB-CW-Digi-AM-NBFM.
A single clickable rotary encoder provides the main functionality. Click to switch between variable bandwidth or centre frequency. Store your favourite setting as a power-up default. Simple but very effective. The filters are continuously variable and always have near perfect characteristics unattainable with conventional analogue techniques.
Kit includes:
filter module PCB (ready-built),

Bourns rotary encoder (6mm diameter shaft) ,

3 x LEDs,

2 x 10 way headers,

7 resistors, 2 capacitors.
Simple to use: the instructions are downloadable here. The instructions contain information to allow users to control the filter using a microcontroller.
Example filters
These plots have been made by testing a LASERBEAM-VARI using a professional audio spectrum analyser (QuantAsylum QA400). Remember that the LASERBEAM-VARI can synthesise any bandpass filter that you want (200-3500Hz). Click on the links below to see the filters.
Using your LASERBEAM-VARI module
The most common question I get is "can I fit your filters inside xxx type of radio?". The answer is generally yes.
LASERBEAM-VARI modules are ready-built and easy-to-use. Make a few connections and you will soon be good to go.
In most radios they can be fitted before the volume control. You may need to adjust levels. The only control you need to bring to the front panel is the rotary encoder although the mode LEDs are very useful. In essence, some ingenuity is needed to retro-fit VARI-BEAM filters. The effort is worth it though, as it really can make old receivers sound quite spectacular.
IMPORTANT NOTE: The LASERBEAM-VARI module is not suitable for use with our BOXA-DUAL filter enclosure kit
Also available from our international agent(s):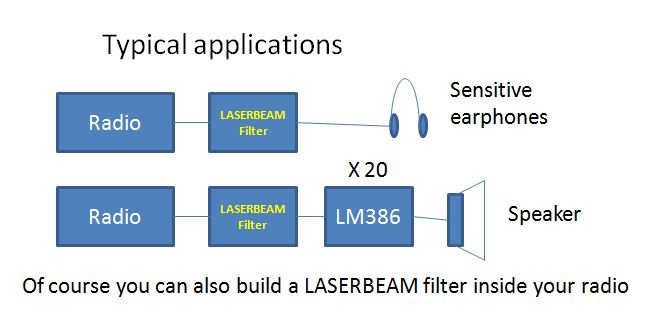 LASERBEAM-VARI modules have been designed to be easy to use. Connections are kept to the minimum:
DC power

Rotary encoder

Audio in (single ended)

Audio out (singled ended or differential)

Optional Mode LEDs (2)
Optional Off-board Overload LED
Optional Gain switch (Voltage gain 1 or 4)
An LED on the module lights if the input level is too high making it easy to set up your filter. The audio input is protected on the PCB so you can't easily damage it!
The filter module will drive high-sensitivity (e.g. > 110 dB SPL/mW) earbuds directly. For higher outputs a simple audio amplifier such as an LM380N could be added. LASERBEAM-VARI modules are Altoids-friendly!
The modules are perfect for use in existing radios or an an outboard filter. We used one with a Rockmite and the difference was simply amazing! These filters are also great with the popular PIXIE transceiver.
LASERBEAM-VARI Module Specification
Supply voltage: 5 - 15 Volts (reverse polarity protected)
Typical supply current: 50 mA @ 12 Volts
Filter type: multi-tap FIR (KBD Window)
Phase response: linear
Module size: 36 x 36 mm (approx 1.4 x 1.4 inches)
Weight: 5.5 grams
Voltage gain: 1 or 4 (selectable)
Ultimate rejection: better than 60 dB
Passband ripple: <0.15 dB
Input impedance: 8000 Ohms
Output impedance: 750 Ohms
Output type: differential (can be used single-ended)
Maximum AF input Voltage: 2.4 V pk-pk (input protected)
Minimum AF input Voltage: 300 mV pk-pk (recommended)
Maximum AF output Voltage: 2.4 V pk-pk
Processing delay: 22 mS
What is the difference between a LASERBEAM-VARI filter and a standard IF crystal/mechanical filter?
| | | |
| --- | --- | --- |
| Characteristic | VARI-BEAM FILTER | IF Crystal/mechanical filter |
| Cost | Low | High |
| Bandwidth options | Fully variable | 1 per filter |
| Within AGC loop? | No | Yes |
| Shape factor | Excellent | Average |
| Ultimate rejection | >60dB | > 50dB (but usually well away from filter bandwidth) |
| Filter gain | Yes - if required | Typically 6dB loss |
| Residual noise | Yes - low level | No |
| Requires power | Yes | No |
This tiny gem is a nice product to filter out QRM. It is simple to connect, simple to use. Mayebe an additions of a serial port to connect it to a microcontroller would be a nice feature.

I use this filter in my uBITX qrp radio. First used it with the extra mentioned oled display but couldn't get that work properly. With the leds only it also working fine. It's a bit difficult to set the CF by ear but once found the filter works excellent.

I've had two of these. The first one I built into a separate case but the second I built into a QRP rig. At first I found it confusing to track where the center frequency was. However, I now have the default center frequency set where I want it and mostly use the bandwidth adjustment to filter out interfering signals.

variable bandwidth filter module

Works prima.
The rotary encoder was not ok and you have send me imediatly an other wan.Thanks!!!

The vari filter is s great product!!!

Best filter I've ever used

This filter is outstanding in its performance and versatility. It was fun and easy to build and is a great addition to my YouKits EK-1C which doesn't have narrow enough filtering for a busy cw band. Its now brilliant. I love that you can tune the centre frequency and put it exactly where you want relative to the sidetone. I also use it a lot with my IC-718 and its a great complement to the rig's own 500Hz cw filter and DSP. I built a small amplifier module into my filter to drive bigger headphones or a small speaker. The suggested LM386-based amp is far too noisy and I couldn't get it to reduce hissing, there are suggestions on the web but they don't work well and it also seemed prone to RFI (which the filter itself isn't). After some research and experimentation I used a TL071-based amp instead and, for a similar price and a similar external component count, it is very much quieter and cleaner. I recommend it as better than the LM386 to boost the output from the filter if you want to drive something more than efficient ear-buds. I have it configured for about 15db gain and have a small volume control. All built in to a SOTAbeams ABS enclosure box (medium) which I also rate very highly and recommend unreservedly.

A simple to use well made DSP circuit.

I remember making my first audio filter years ago using an RC network and some op amps. It worked OK but nothing like this. It is amazing how selective this filter can be. The instructions are clear and simple. It took a few minutes of experimentation to get how the two variables interact. This is a great addition to a receiver that needs a little more selectivity.

Filter is suberb but tuning not easy

Its the first time that I test a filter that calculate the BW and the center frequency.
The filter is superb!!!!
But the tuning of BW and center is not easy! !
From my opinion I missing two LED lines
one line for the BW and one line for the centerfrequency.

summary: I recommand this Filter!

After watching the review by W2AEW I was tempted.
It arrived within a few days, and that's to New Zealand. After a bit of thinking, I mounted all of the external passive components on a matrix style PCB, used a couple female header plugs in case problems came up, which they didn't, to the main board and fired it up.
Let me say it lives up to the promise.
I did add a little push button in parallel with the function switch on the encoder to enhance the experience. Used a nice little aluminium case with a 9v battery and the push button on top. Wish I could post a picture here.
What is not emphasized is that you just connect the headphones output of the transceiver, my FT 817, and then connect the headphones to this unit. Simple as.