Peter VK3YE tests a LASERBEAM-DUAL module
_______________________________________
Digital CW and SSB Bandpass Filter Modules
Our range of ready-made LASERBEAM-DUAL digital audio filter modules are the perfect addition to your project or even to your existing radio. Unlike analogue filters, digital filters provide near-perfect characteristics. Because of the way that they are implemented, they are better than analogue filters in almost every way!
LASERBEAM-DUAL Modules have been designed for ease of use. Each module has two bandpass filters onboard. There are three combinations to choose from:
The General Purpose module has a narrow CW filter (550 - 850 Hz) and an SSB filter (300 - 2700 Hz)
The CW module has two narrow filters (550 - 850 Hz) and (300 - 1300 Hz)
The SSB module has a standard SSB filter (300 - 2700 Hz) and a narrow SSB filter (300 - 2400 Hz).
The General Purpose module is great for users who like to move between SSB and CW. It would made a great addition to radios such as the KX1, BITX40 or HB1B which offer CW and SSB reception. A digital bandpass filter will make a real improvement to the skirt selectivity of the analogue filters in these simple radios.
The CW module is sure to prove popular with CW specialists. The 1,000 Hz bandwidth filter is great for tuning around while the 300 Hz filter allows the user to "home in" on a signal of interest.
The SSB module offers two useful bandpass filters. The wider filter is great for improving the performance of your radio's existing filters while the narrower filter will be of great use for DXing or contesting under difficult conditions.
Note that these are bandpass filters only, so will not do anything about noise inside the passband. However, they should be very effective at eliminating noise and signals outside the passband. They will make the biggest difference to older or simpler radios that do not already have advanced DSP filtering on the audio output.

Actual filter response measured using Quantasylum QA400
Signal LED
The General Purpose and CW modules feature a signal LED. This works from its own independent digital filter and is centred in the CW passband (at 700 Hz). The LED lights when a signal is detected. This is very useful as it means you can tune around using the wider filter and once the signal is detected, the narrow filter will automatically be perfectly tuned! NOTE: one customer has told us that the signal LED output works well to drive his Arduino Morse decoder.
Video: Demonstrating a LASERBEAM filter (NOTE: we supply just the modules. The box shown in the video is just a mounting suggestion.)
Also available from our international agent(s):
Maybe your radio already has a CW filter, even DSP, how much difference can a better filter make? We tested a few radios that we had around to see. Check out the results. In each case, the stock radio filter is the yellow trace and our filter is the red trace. Note how our filter improves the performance of each radio! Click on the radio for the overview.
FT817 (CW), HB1B (narrow), HB1B (wide), MTR Mountain Topper, Rockmite, SW+, DSW.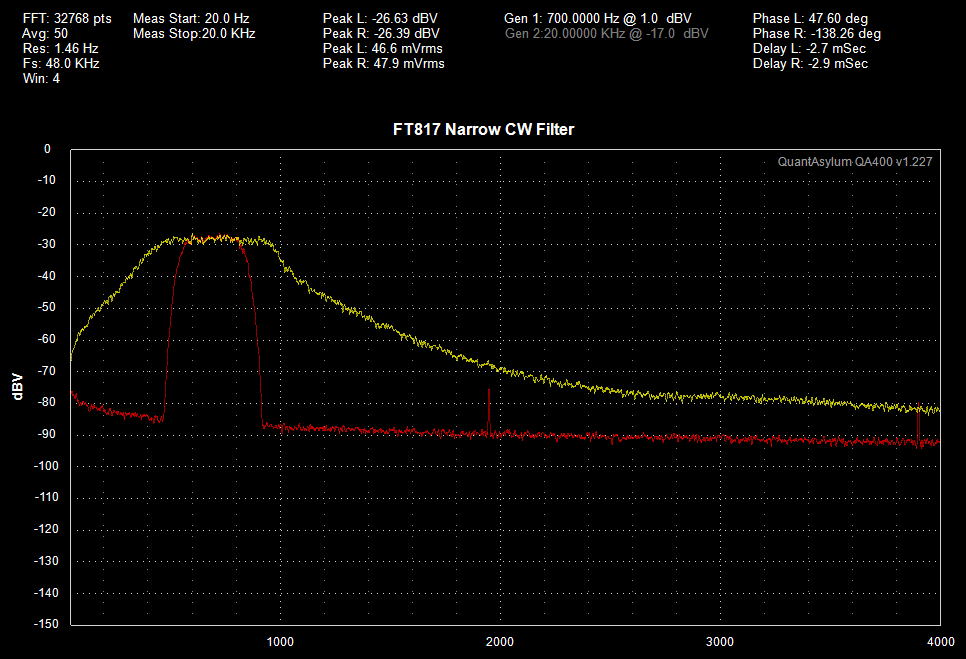 LASERBEAM filter (red) used to improve performance of an FT817 with 500Hz IF filter fitted (yellow)
Recordings for LASERBEAM-DUAL Filters in use



Customer comment; "These filters are several leagues ahead of anything possible with analogue circuitry. The skirts are so steep, tuning a signal generator through the cutoff frequencies, it's as if the generator has been switched off." Paul G4MD June 2016.
________
I'm excited about these filters and so to demonstrate them I have recorded some audio clips. Each file has the format:
10 seconds unfiltered, 10 seconds LASERBEAM wide, 20 seconds LASERBEAM narrow, 10 seconds LASERBEAM wide, 10 seconds unfiltered.
Click on the samples to play:
Power considerations
Our filter modules have been optimised for use in situations where batteries will be used. They operate over a wide voltage range (5 - 15 Volts) and only draw 25 mA. They have onboard reverse polarity protection too.
Using your LASERBEAM-DUAL module
The most common question I get is "can I fit your filters inside xxx type of radio?". The answer is generally yes.
LASERBEAM-DUAL modules are ready-built and easy-to-use. Make a few connections and you will soon be good to go.
In most radios they can be fitted before the volume control. You may need to adjust levels. If you want to take full advantage of the modules you will need to sort out some way of switching between the wide and narrow filters and you might like the tuning LED in view too - which could involve a hole in the front panel. In essence, some ingenuity is needed to retro-fit LASERBEAM filters. The effort is worth it though, as it really can make old receivers sound quite spectacular.
Nicolas F4EGX shows how he fitted a LASERBEAM filter into his Elecraft K2. Twitter video here.
Note that the button on the PCB is used for part of our factory testing. It can be removed if you wish. It should not be pressed on power-up as this will start a factory test sequence.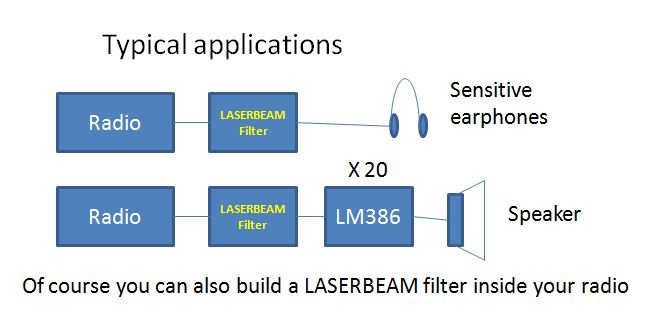 LASERBEAM-DUAL modules have been designed to be easy to use. Connections are kept to the minimum:
DC power

Switch (SPST)

CW Detect LED* (optional)

Off-board Overload LED* (optional - there is an overload LED on the module)

Gain switch (Voltage gain 1 or 4)

Audio in (single ended)

Audio out (singled ended or differential)
An LED on the module lights if the input level is too high making it easy to set up your filter. The audio input is protected on the PCB so you can't easily damage it!
The filter module will drive high-sensitivity (e.g. > 110 dB SPL/mW) earbuds directly. For higher outputs a simple audio amplifier such as an LM386 could be added (see module instructions for an example circuit diagram). LASERBEAM-DUAL modules are Altoids-friendly!
The modules are perfect for use in existing radios or an an outboard filter. We used one with a Rockmite and the difference was simply amazing! These filters are also great with the popular PIXIE transceiver.
Download the LASERBEAM-DUAL Filter Module instructions here.
LASERBEAM-DUAL Module Specification
Supply voltage: 5 - 15 Volts
Typical supply current: 25 mA @ 12 Volts as of Dec 2020 (30 mA for older modules)

Filter type: Multi-tap FIR
Module size: 36 x 36 mm (approx 1.4 x 1.4 inches)
Weight: 5.5 grams
Voltage gain: 1 or 4 (selectable)
Ultimate rejection: better than 60 dB
Passband ripple: <0.15 dB
Input impedance: 8000 Ohms
Output impedance: 750 Ohms
Output type: differential (can be used single-ended)
Maximum AF input Voltage: 2.4 V pk-pk (input protected)
Minimum AF input Voltage: 300 mV pk-pk (recommended)
Maximum AF output Voltage: 2.4 V pk-pk
Processing delay: less than 19 mS
What is the difference between a LASERBEAM-DUAL filter and a standard IF crystal/mechanical filter?
| | | |
| --- | --- | --- |
| Characteristic | LASERBEAM FILTER | IF Crystal/mechanical filter |
| Cost | Low | High |
| Bandwidth options | 2 per module | 1 per filter |
| Within AGC loop? | No | Yes |
| Shape factor | Excellent | Average |
| Ultimate rejection | >60dB | > 50dB (but usually well away from filter bandwidth) |
| Filter gain | Yes - if required | Typically 6dB loss |
| Ease of fitting | requires skill | plug in unit |
| Tuning LED | Yes | No |
| Residual noise | Yes - low level | No |
| Requires power | Yes | No |
Dual Bandwidth Filter Module SSB/CW

I added the 384 amp (as described) to the module and inserted the module and amp in the case of a MFJ external speaker. I only used the CW mode. I did not notice much difference the CW audio from my IC-703 radio. However, the module seemed to have limited dynamic range because I had to constantly adjust the IC-703 audio gain to keep the module from overloading. The module will likely help radios that have less internal filtering

HI this module is a nice success for my homebrew rigs, i'm very glad. Congratulations, 73/F1FWE.

Dual Bandwidth Filter Modules SSB/CW

This is the best CW audio filter I have used. It is truly a " brick wall", with no ringing. Thanks for a great product.

Really nice piece of kit. I needed selectivity for my mini - R2 phasing receiver, and adding this onto the audio chain provides very nice cw selectivity, as well as some help under tough phone conditions. I'll be getting another one or two for the other homebrew receivers. An option for a higher quality encoder would be nice, but the one included works well enough.

Another use as a Sidetone filter

I was looking for a audio filter to filter my raspy square wave sidetone on my Pico keyer for listening and practice purposes. I remembered having a general purpose DSP in my go box and decided to try it. I plugging in the output of the keyer side tone along with headphones. Wow!! it worked very nice..

I added one of these at the input of the LM386 audio amplifier and it works great. Installation was easy. I used double sided PVC tape to stick the board on top of the VFO assembly near the audio control, added a few wires and was done. Very happy this filter was available. Jim/ND6P

My CW audio filter choice from now on

In the past, I have been using analog audio CW filters in my homebrew projects, after testing the Laserbeam CW filter (1000 Hz and 300 Hz bandwidth) this has become my choice. I am really delighted with the performance of this filter, to the extent than I am considering a rejuvenation of my FT-817 by fitting the dedicated CW/SSB filter. https://www.youtube.com/watch?v=uc9fk6G3cpk

Good product. One minor problem. Green LED leads in instructions was opposite to LED supplied. Richard advised that I install it and it worked fine !.

If you want to operate CW, you need this unless your radio already has an amazing filter. I have an FT-817, and decided to use the wide/narrow CW filter in the external amp/enclosure kit you can also get from SOTABeams. The performance is really amazing. The only downsides are that it's an external module (I opted for this since I didn't want to modify my radio) and that it operates on the full passband -- so it's not going to help a ton if you're trying to pull a weak signal out from right next to a big loud close one, but that's not what it's for, so this still gets 5 stars! Sound quality is excellent. This is the budget route to a great CW experience for the FT-817, and I'm sure it's great for other filter-less radios out there.

The filter was built into the ubiquitous Altoids tin - seemed appropriate for QRP portable.... Performance is outstanding when used with my FT-817.