Antenna Centre + 1:1 Balun
AVAILABLE AS A KIT OR READY-BUILT AND TESTED
An antenna centre with built in 1:1 common mode current balun.
Feeder strain-relief built in

BNC socket

Water-resistant construction

Antenna wire strain-relief built in

Fixing for centre support

Lightweight 88g (3.1 oz.)

High performance by design

Loss < 0.2dB @ 14MHz

125 Watt power rating.

Note: the balun is designed with a lip that can be sealed using a silicone sealant if required for use in more permanent installations. We do not supply the balun sealed as this allows users to gain access to the enclosure.
The technical stuff
Much nonsense is talked about baluns. The purpose of a balun is to isolate the antenna from the feeder. Baluns are not always necessary. One indication that a balun is needed is when the VSWR of an antenna varies if the feeders is touched or moved. However, this is by no means a comprehensive test and the only real way to tell is to measure the common mode currents on the feedline and then to decide what is acceptable in your own situation. Baluns are especially important where;
the radiation pattern of an antenna needs to be carefully controlled and made predictable

sources of electrical noise can be induced onto the feeder

RF at the transmitter end of the feeder needs to be reduced - for example if your radio is connected to a computer for data modes

the Q of the antenna is high. In such cases uncontrolled common mode currents can cause all sorts of problems
Radio amateurs often coil a few turns of feeder up at the feedpoint of the antenna to act as a feedline choke. Sometimes this seems to work. This has given rise to an impression that such an approach is adequate in all situations - it is not. The common mode rejection ratio of a balun depends on the impedance of the system at the point that the balun is used. Note that the impedance is not related to the impedance of the feeder itself (it's not usually 50 Ohms). The impedance where the balun is located can be just about anything. If it is very low, a few turns of co-ax "scramble wound" might act as a viable balun. If it is very high even a well designed balun might struggle to help.
The graph below compares the SOTABEAMS balun (green trace) with 7 turns of cable "scramble wound" (pink trace). The red trace is a 680 Ohm resistor used for calibration and checking. The markers have been set in the amateur bands.
First note that the calibration resistor is measured at about 680 Ohms across the entire frequency range - this indicates that the measurement system is working well.
The scramble wound "balun" (pink trace) shows a low impedance (less than 680 Ohms) up to 12MHz. From there the impedance peaks at 19.5MHz before falling rapidly to 30MHz where it is nearly back to 680 ohms. The peak is caused by the "balun" resonating. The resonant frequency will likely change depending on how the balun is located and with rain/moisture; not good.
The SOTABEAMS balun (green trace) shows a very different characteristic. It is designed to act as an effective feedline choke from 1.8-30MHz. It shows an impedance of over 1,000 Ohms across the virtually the entire range from 1.8-30MHz. Its performance will not change significantly - it's stable and predictable.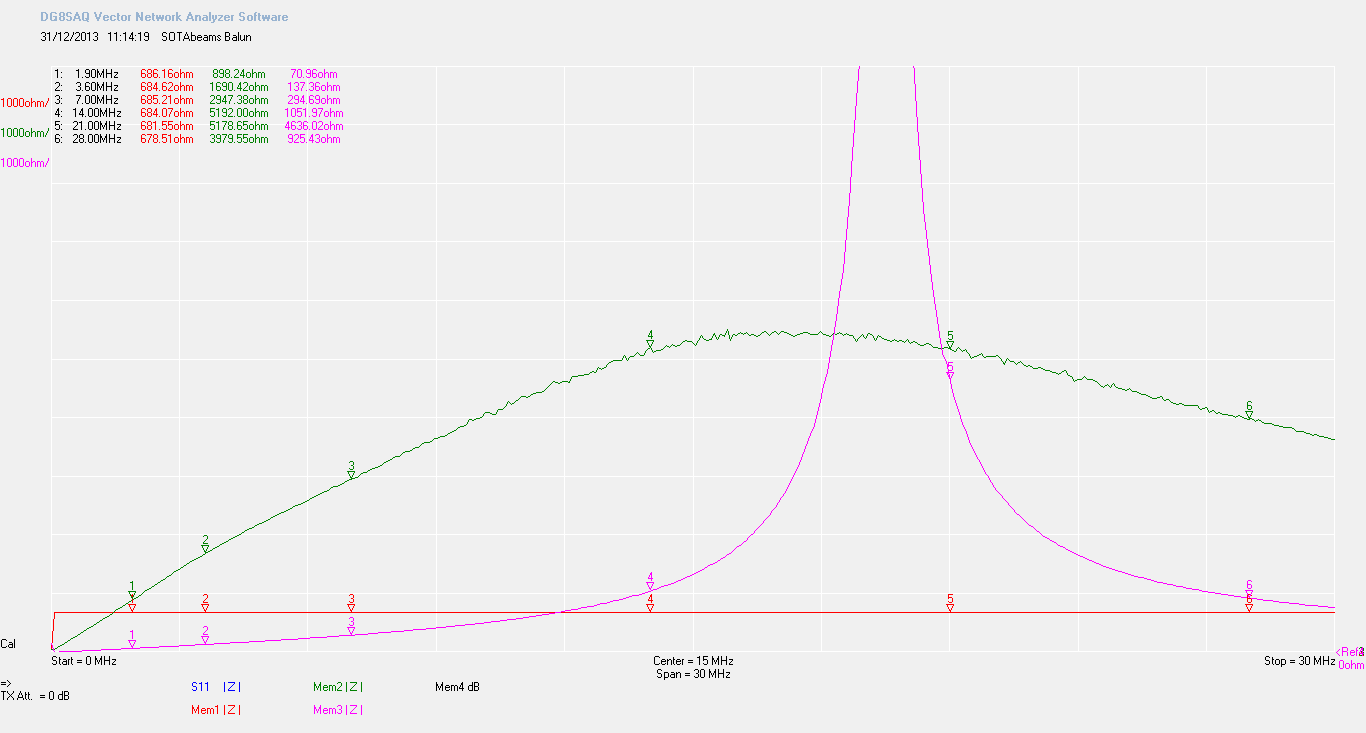 Click graph to enlarge
What does this mean?
The following graph shows the Common Mode Rejection Ration (expressed in dB) of a scramble wound "balun" compared to a SOTABEAMS balun.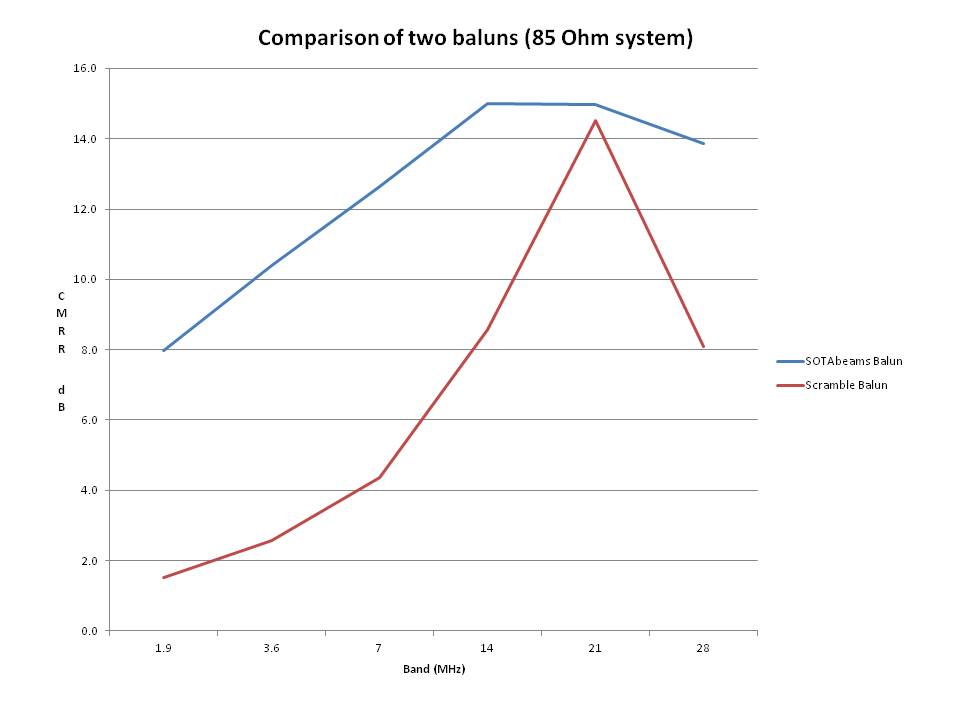 Clearly the SOTABEAMS balun is always better than a scramble wound "balun" in the amateur bands. The SOTABEAMS balun provides predictable performance across its range; that's because it has been designed and properly tested!
Instructions are available HERE!
Easy to build and works as it should Brilliant. Thank you Sotabeams.

Antenna Centre + 1:1 Balun

Good, easy to assemble kit. Cheaper (shipped to ZL) than individual comoponents locally. Well designed lightweight rugged centre-balun for portable dipole use. Ended up re-winding it 64:1 for an 80m EFHW in instead of 1:1 for the dipole and it has done the trick for both configurations with the addition of some annealed wire for the 64:1 winding.

Purchased the kit. Assembly straight forward. This will be ideal for portable or home use.

An easy to make balun. All parts supplied. Good value!

Absolutely love this- was a real joy to build and now the centerpiece of several homebrew antennas. Has worked great so far, and been sturdy enough to bang around in my radio go-bag. Highly recommended.

Easy kit, good quality but...

I really don't like the way the BNC socket was placed. It makes the whole center point tending to flip forward, except you mount it like in the picture. But for portable operations this is really a hassle. Would be much better if the BNC socket would be placed facing downwards with a possibility to fix the feeder for releasing pulling force of the hanging cable. Otherwise I like it. I am using it with my linked dipole and I am pretty happy.

great little kit, all parts present and assembled easily, works just great

can recommend highly

Nice light weight and easy to use.

Easy assembly - Top Quality

The 1:1 balun went together as advertised and performs equally well. Top quality material and easy instructions (online) so you will never misplace them.

built 2 in less than an hour. Very easy.