The Travel Mast: a compact lightweight telescopic mast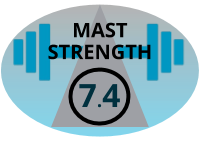 ***IMPORTANT NOTE: IF USING THIS MAST WITH A BAND HOPPER ANTENNA WE RECOMMEND ATTACHING THE ANTENNA NO HIGHER THAN 6 METRES (20FT) UP THE MAST (top of section 11 - counted from base/outer section)***
This is our 10m (33ft) Travel Mast. With a transport-length of only 67cm ( 26.5 inches ) it fits in a suitcase making it perfect for vacation DXing.
Note that this type of mast is quite flexible. To get the best performance out of it, guy it carefully. For use with horizontal antennas a maximum practical height for the antenna is 7 metres. The full height of the pole can be used for vertical antennas. If the pole is bending a lot, you have too much tension on it! The poles will break if bent too far.
Detailed Specifications:
Not sure which mast to choose? Click here for our handy comparison chart.
Extended length: 10 metres (32 ft). Lengths approximate - click here to find out more.
Packed length: 67 cm (26.4 inches)
Number of sections: 17
Wall thickness: 1.4 mm (0.06 inches) bottom, 0.67 mm (0.03 inches) top
Weight: 1.3 kg (2.9 lbs)
Mast Material: glass-fiber composite (non-conducting)
Tube diameter: top 3.3mm (0.13 inches) base 47 mm (1.85 inches)
Base cap diameter: 55 mm (2.2 inches)
Tube colour: Light grey
Mast sections hollow to the top
Supplied with black bag with fold over tie top.

FAQ:
Spare parts are available - see below.

The mast is made of Glass Reinforced Plastic (GRP) = Fiberglass. This is an insulator with excellent RF properties (very low loss).
Friction lock: pull each section firmly with a twisting motion for best lock. When erecting always start with the smallest section. When taking down always start with the largest section.
Top sections may be removed by unscrewing the endcap at the bottom of the mast.
Spare parts:
A benefit of this premium product is our spares support.
The following spares are available for the 10m Compact Travel Mast:
Instructions are available HERE!
Also available from our international agent(s):
Outstanding for SOTA/portable use

I have used this mast with a 3 band end fed antenna for several SOTA activations and other portable operations. The size and weight are perfect, and it is easy to deploy in the field. In colder drier wx, I have found it helpful to bring a pair of gloves to better grip and twist the sections for setup and take-down; my hands tend to get dry and lack grip in such conditions. I've usually secured the mast to a tree with reusable tie wraps or bungee cords, but also have used the guying kit (GK-10) with success. A great addition to my SOTA and portable QRP kit!

This mast is exactly as advertised - a good choice for suitcase or car travel. It coul be carried easily on a SOTA hike but it's a bit heavy for extended backpacking. It will support a full-size vertical for 20M and shorter bands, longer bands with a bottom loading coil. It can hang the center insulator of a light-weight 40M dipole part-way up although I haven't had a chance to try that yet. It's pretty flexible (read "floppy") at the top and sways a lot in the wind. If a storm is coming up, this pole should come down before it hits. The top section, like the rest, is tubular but appeared solid until I poked through the paint with a pin. Then I could hang the vertical with a holder made of stiff, bent wire. My only disappointment was the lack of foam rubber inserts at the ends to keep the sections from rattling in transport. There were styrofoam bubbles, but that's suitable for shipping only. I look forward to many fun outings with this mast.

Solid glassfiber mast although not quite 10m

My mast is 949cm fully extended which is a bit short for a 40m quarterwave, even including the shortening factor. I wish there was a ring or something at the tip of the mast to fasten an antenna wire in. Tape or straps work but a ring like on a fishing rod would be better. The design is sturdy and it is reasonably stiff although do not try to put a 100 gram balun close to the top. It will bend like crazy when you raise it. Overall a solid product, though.

Spot on pole for portable op

A short list of con's that are well known if you have done your reading; * The top sections are very light weight. When coupled with a dual bander wire antenna the pole sags badly and I chickened out. Less a mast issue and more an issue with the antenna centre feed mounting not running down far enough. I use velcro strapping to mount the centre feed lower down around 6 meters as the dual bander manual suggests. * Following G0POT's advice (and the poles manual!), make sure you load something into the bottom of the mast to cushion the inevitable collapse when your first getting used to setting up. I used a few layers of simple packing foam and have thanked myself when a mid section came loose and softly bounced off the bottom. The upsides to this pole though are exactly as described! It fits easily into backpacks, its super lightweight and seems to stand up quite well in wind. Getting it stood up is not a challenge with some practice! If your using light weight wire antennas you can't go wrong here (The performance makes me seriously re-consider the extra 2KG just for a HD Spiderbeam). Shipping to Australia was painless and the express posting was well worth it with a trip from Heathrow to my door in less than a week.

Ideal for what I want it for .. ie going to spain in January an it fits perfectly in my suitcase. looking forward to using it there. For its size and weight it is very sturdy.

Great pole, great service

The telescopic poles are outstanding. Easy to use, and strong for their weight. If you DO break a section by doing something dumb (like I did) their replacement service is fast and at very minimal cost (shipping). I can't over-recommend Sotbeams. Also - for those that are interested in spray-painting camo on these poles, they take paint reasonably well.

The collapsed size (67cm) is just right for my portable kit, and extending to its maximum size (10m) couldn't be easier. As I stated above, perfect for my needs.

Compact light weight 10 m 30 ft mast

A littlebit soft on the top.

Portable and easy to carry

I've got some 12m HD fibreglass masts that I use to get the apex of my wire antennas up a bit higher. The HD part is particularily useful as the top segments are stiffer, and the mast won't bend that much under normal use with the lighter wire, ie: no heavy baluns or top heavy hardware. This compact light mast at 10m isn't really capable of supporting anything heavy at all, but then that's not what we're here for - if you've looked at other products on this site, you'll see the main focus is on shedding pounds while still being effective. This mast is effective in so many ways, as long as you remember what it's intended to be: easy to carry, easy to deploy, and perfect at reliably supporting a light wire antenna for portable operation

Easy mast to erect and lower, fast shipping to Australia, easy purchase via website, nothing negative, this is my second purchase, and I have three of these masts in total.