The Travel Mast: a compact lightweight telescopic mast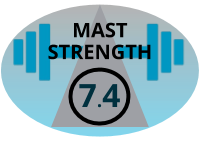 ***IMPORTANT NOTE: IF USING THIS MAST WITH A BAND HOPPER ANTENNA WE RECOMMEND ATTACHING THE ANTENNA NO HIGHER THAN 6 METRES (20FT) UP THE MAST (top of section 11 - counted from base/outer section)***
This is our 10m (33ft) Travel Mast. With a transport-length of only 67cm ( 26.5 inches ) it fits in a suitcase making it perfect for vacation DXing.
Note that this type of mast is quite flexible. To get the best performance out of it, guy it carefully. For use with horizontal antennas a maximum practical height for the antenna is 7 metres. The full height of the pole can be used for vertical antennas. If the pole is bending a lot, you have too much tension on it! The poles will break if bent too far.
Detailed Specifications:
Not sure which mast to choose? Click here for our handy comparison chart.
Extended length: 10 metres (32 ft). Lengths approximate - click here to find out more.
Packed length: 67 cm (26.4 inches)
Number of sections: 17
Wall thickness: 1.4 mm (0.06 inches) bottom, 0.67 mm (0.03 inches) top
Weight: 1.3 kg (2.9 lbs)
Mast Material: glass-fiber composite (non-conducting)
Tube diameter: top 3.3mm (0.13 inches) base 47 mm (1.85 inches)
Base cap diameter: 55 mm (2.2 inches)
Tube colour: Light grey
Mast sections hollow to the top
Supplied with black bag with fold over tie top.

FAQ:
Spare parts are available - see below.

The mast is made of Glass Reinforced Plastic (GRP) = Fiberglass. This is an insulator with excellent RF properties (very low loss).
Friction lock: pull each section firmly with a twisting motion for best lock. When erecting always start with the smallest section. When taking down always start with the largest section.
Top sections may be removed by unscrewing the endcap at the bottom of the mast.
Spare parts:
A benefit of this premium product is our spares support.
The following spares are available for the 10m Compact Travel Mast:
Instructions are available HERE!
Also available from our international agent(s):
Strong, long but backpack sized

Owned my travel mast for about 18 months and have used it /P and /A in a myriad of locations and conditions. I've been really happy with this as a portable dipole mast. It packs down small enough for a travel case (when going on holiday) but, just as importantly, packs away in your backpack when hiking to a summit. I snapped off the very tip on trees while operating from a wooded hilltop but in truth I tend not to use the last couple of very thin sections and typically just remove them. I've used the mast with guys (I use my dipole for two of the guys and then just add a third string) and with velcro straps to fence posts and gateposts. It's withstood gale force winds (probably not recommended but it did it) and gets my 3 band, 20/30/40m dipole up high enough to be effective, even as a QRP Op. I recommend putting a little foam disk in its base (I use a bit of sleeping mat) to prevent damage if the sections collapse and I often pop a bit of PVC tape around the joints to minimise that risk. An excellent bit of kit... de Michael (G0POT)

This is a wonderful product. I have used it dozens of times as the center for different dipoles, including an 80/40 meter crossed dipole made with either Kevlar (very lightweight) wire, or #18 stranded copper coated steel wire, or a 40 meter dipole with #14 copper wire. With the heavier antennas and/or wind I used 2" No-Residue Scotch Tough Duct Tape to keep the sections from telescoping while in use. The antenna wires, including center baluns, were at 20' or 16' heights. After several uses, the tape will start pulling off small areas of the gray coating, which is a good tradeoff. I have several other versions of 20'-28' telescoping fiberglass poles, and I prefer the Travel Mast to all of them.

Did what it said on the tin!

Bought the mast for 'holiday style' DXpedition to Paxos Island SV8 (EU-052) in Greece. Fitted fine in medium size hold luggage. Used it to support ground planes, EFHW's and dipoles (not at the same time!). Lightweight dipoles are fine providing you obviously don't use the full height. Dipole supported at about 25ft.

My first attempt at erecting this pole resulted in breakage at two points. Although in retrospect, I created the disaster. I laid it out properly following the video instructions, but raised the dipole that was attached to the top by raising the whole pole. Instead, I should have had several helpers make sure the wires/back guy were not getting hung on anything like tall grass or bushes. I can't imagine anyone doing this by themselves. However, I should have pushed up the pole, then had helpers attach the wire and back guy stakes. And I'd recommend only erecting in an open field...not next to any trees where the wires or guy can get snagged. Once it started to fold over, I couldn't control it and it snapped in two places. I hope I can still use it to some degree or repair with epoxy - which is doubtful.

Great Pole - a little pricey

I used this for going on holiday to Florida, where I operated as W4/MM0KFX. The antenna is strong, lightweight and really is a must have if you want to operate "holiday-style" or go on a DXpedition. The colour makes the antenna look inconspicuous and sections can be removed to customise the length to your needs. The only drawback is the price. It is considerably more expensive than poles of similar height (10m), but you seem to be paying a lot more money for the luxury of a small collapsed length. This is nothing to do with SOTAbeams, as I have seen these advertised in Europe for a similar price. Would I buy again? Yes!

More Compact Than The Jackite

Although this 10M pole lacks a steel ferrule at the tip, it is very compact--that's the primary selling point for SOTA and traveling. I used it to operate from a 2nd floor flat in Bucharest when access to the roof was restricted. I coiled my antenna wire around the mast once and put the antenna wire inside the mast the other time. The gray gloss finish makes this a very classy package. Highly recommended.

I particularly like this pole because it can be strapped to the side of my rucksack. I removed the top 2 or three sections to give more rigidity. This is a well made pole.

Useful and portable telescopic mast

I bought this telescopic mast a few weeks ago, but I haven't used it yet. I have looked at it in the garden and it seems well made and I'm looking forward to using it soon. My only concern is the weight for air travel because it isn't as light as I hipped. I will be taking it to Asia soon and hopefully it won't push me over my luggage limit.

Excellent product. Well made. Approximately the same weight as a 10m fishing pole. The compact size makes it ideal for SOTA where climbing is needed and the pole can be stored in a backpack, leaving your hands free. Slightly more flexible compared to a fishing pole, care with guying is needed on higher sections with heavier antennas. Overall this is a practical product that does justify the extra cost in my opinion. The additional storage bag helps to keep the pole dry.

For travel or domestic portable use, this is a great mast! Excellent quality fibreglass and it really does pack down small.