Peter VK3YE tests a LASERBEAM-DUAL module
_______________________________________
Digital CW and SSB Bandpass Filter Modules
Our range of ready-made LASERBEAM-DUAL digital audio filter modules are the perfect addition to your project or even to your existing radio. Unlike analogue filters, digital filters provide near-perfect characteristics. Because of the way that they are implemented, they are better than analogue filters in almost every way!
LASERBEAM-DUAL Modules have been designed for ease of use. Each module has two bandpass filters onboard. There are three combinations to choose from:
The General Purpose module has a narrow CW filter (550 - 850 Hz) and an SSB filter (300 - 2700 Hz)
The CW module has two narrow filters (550 - 850 Hz) and (300 - 1300 Hz)
The SSB module has a standard SSB filter (300 - 2700 Hz) and a narrow SSB filter (300 - 2400 Hz).
The General Purpose module is great for users who like to move between SSB and CW. It would made a great addition to radios such as the KX1, BITX40 or HB1B which offer CW and SSB reception. A digital bandpass filter will make a real improvement to the skirt selectivity of the analogue filters in these simple radios.
The CW module is sure to prove popular with CW specialists. The 1,000 Hz bandwidth filter is great for tuning around while the 300 Hz filter allows the user to "home in" on a signal of interest.
The SSB module offers two useful bandpass filters. The wider filter is great for improving the performance of your radio's existing filters while the narrower filter will be of great use for DXing or contesting under difficult conditions.
Note that these are bandpass filters only, so will not do anything about noise inside the passband. However, they should be very effective at eliminating noise and signals outside the passband. They will make the biggest difference to older or simpler radios that do not already have advanced DSP filtering on the audio output.

Actual filter response measured using Quantasylum QA400
Signal LED
The General Purpose and CW modules feature a signal LED. This works from its own independent digital filter and is centred in the CW passband (at 700 Hz). The LED lights when a signal is detected. This is very useful as it means you can tune around using the wider filter and once the signal is detected, the narrow filter will automatically be perfectly tuned! NOTE: one customer has told us that the signal LED output works well to drive his Arduino Morse decoder.
Video: Demonstrating a LASERBEAM filter (NOTE: we supply just the modules. The box shown in the video is just a mounting suggestion.)
Also available from our international agent(s):
Maybe your radio already has a CW filter, even DSP, how much difference can a better filter make? We tested a few radios that we had around to see. Check out the results. In each case, the stock radio filter is the yellow trace and our filter is the red trace. Note how our filter improves the performance of each radio! Click on the radio for the overview.
FT817 (CW), HB1B (narrow), HB1B (wide), MTR Mountain Topper, Rockmite, SW+, DSW.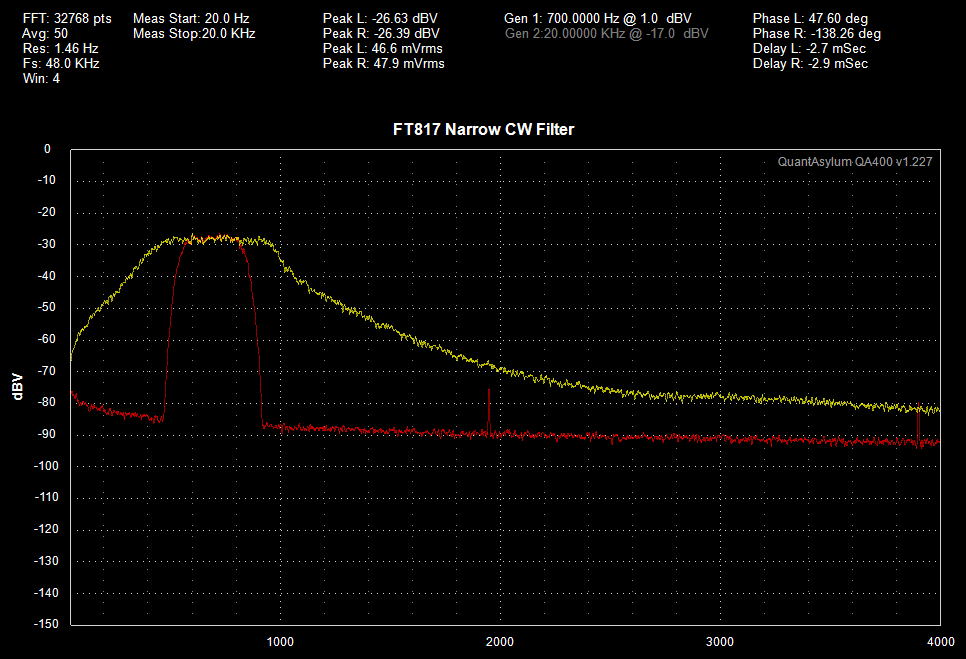 LASERBEAM filter (red) used to improve performance of an FT817 with 500Hz IF filter fitted (yellow)
Recordings for LASERBEAM-DUAL Filters in use



Customer comment; "These filters are several leagues ahead of anything possible with analogue circuitry. The skirts are so steep, tuning a signal generator through the cutoff frequencies, it's as if the generator has been switched off." Paul G4MD June 2016.
________
I'm excited about these filters and so to demonstrate them I have recorded some audio clips. Each file has the format:
10 seconds unfiltered, 10 seconds LASERBEAM wide, 20 seconds LASERBEAM narrow, 10 seconds LASERBEAM wide, 10 seconds unfiltered.
Click on the samples to play:
Power considerations
Our filter modules have been optimised for use in situations where batteries will be used. They operate over a wide voltage range (5 - 15 Volts) and only draw 25 mA. They have onboard reverse polarity protection too.
Using your LASERBEAM-DUAL module
The most common question I get is "can I fit your filters inside xxx type of radio?". The answer is generally yes.
LASERBEAM-DUAL modules are ready-built and easy-to-use. Make a few connections and you will soon be good to go.
In most radios they can be fitted before the volume control. You may need to adjust levels. If you want to take full advantage of the modules you will need to sort out some way of switching between the wide and narrow filters and you might like the tuning LED in view too - which could involve a hole in the front panel. In essence, some ingenuity is needed to retro-fit LASERBEAM filters. The effort is worth it though, as it really can make old receivers sound quite spectacular.
Nicolas F4EGX shows how he fitted a LASERBEAM filter into his Elecraft K2. Twitter video here.
Note that the button on the PCB is used for part of our factory testing. It can be removed if you wish. It should not be pressed on power-up as this will start a factory test sequence.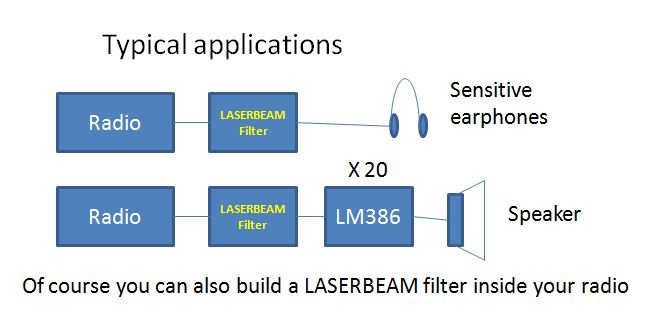 LASERBEAM-DUAL modules have been designed to be easy to use. Connections are kept to the minimum:
DC power

Switch (SPST)

CW Detect LED* (optional)

Off-board Overload LED* (optional - there is an overload LED on the module)

Gain switch (Voltage gain 1 or 4)

Audio in (single ended)

Audio out (singled ended or differential)
An LED on the module lights if the input level is too high making it easy to set up your filter. The audio input is protected on the PCB so you can't easily damage it!
The filter module will drive high-sensitivity (e.g. > 110 dB SPL/mW) earbuds directly. For higher outputs a simple audio amplifier such as an LM380N could be added. LASERBEAM-DUAL modules are Altoids-friendly!
The modules are perfect for use in existing radios or an an outboard filter. We used one with a Rockmite and the difference was simply amazing! These filters are also great with the popular PIXIE transceiver.
Download the LASERBEAM-DUAL Filter Module instructions here.
LASERBEAM-DUAL Module Specification
Supply voltage: 5 - 15 Volts
Typical supply current: 25 mA @ 12 Volts as of Dec 2020 (30 mA for older modules)

Filter type: Multi-tap FIR
Module size: 36 x 36 mm (approx 1.4 x 1.4 inches)
Weight: 5.5 grams
Voltage gain: 1 or 4 (selectable)
Ultimate rejection: better than 60 dB
Passband ripple: <0.15 dB
Input impedance: 8000 Ohms
Output impedance: 750 Ohms
Output type: differential (can be used single-ended)
Maximum AF input Voltage: 2.4 V pk-pk (input protected)
Minimum AF input Voltage: 300 mV pk-pk (recommended)
Maximum AF output Voltage: 2.4 V pk-pk
Processing delay: less than 19 mS
What is the difference between a LASERBEAM-DUAL filter and a standard IF crystal/mechanical filter?
| | | |
| --- | --- | --- |
| Characteristic | LASERBEAM FILTER | IF Crystal/mechanical filter |
| Cost | Low | High |
| Bandwidth options | 2 per module | 1 per filter |
| Within AGC loop? | No | Yes |
| Shape factor | Excellent | Average |
| Ultimate rejection | >60dB | > 50dB (but usually well away from filter bandwidth) |
| Filter gain | Yes - if required | Typically 6dB loss |
| Ease of fitting | requires skill | plug in unit |
| Tuning LED | Yes | No |
| Residual noise | Yes - low level | No |
| Requires power | Yes | No |
Fb result on my vy old soka 747/ftdx 500.Just try! LA2SM

I installed the wide/narrow cw filter in the battery compartment of the FT 817as an external filter. I prefer to use outside batteries on my qrp radios so there I had extra space. Then I drilled some holes in the chassis on the side for wide/narrow, power and headphones in and out. I always found the ft 817 too noisy even with the original Yaesu 500 Hz filter. Listening to cw now is a total new experience.

General Purpose filter into an external Spkr enclosure

I have installed a general purpose filter (SSB-CW) and its motherboard into an external speaker enclosure that I made years ago. The final result is to me very good. The filter amp drives easily a normal speaker, and the filtering effect is very noticeable. The listening on USB maritime bands is very good and the CW signals are clearly much "present".

My TS850S transceiver perform as with 250Hz cw-filter.

A couple of years ago I bought second hand a nice TS850S transceiver. Unfortunately there was not any extra cw-filter installed. My plan was to buy a 250Hz x-tal filter. Than I noticed Sotabeams adverticement and bought the dual version (cw wide - narrow) filter. I am very impressed how nive it works. Really as good, and perhaps better, than a x-tal filter. Much money saved. N.Bjorneseth LA 9 FG

Brilliant quality and value filtering solution

I recently purchased two of the enclosures along with the CW only and SSB only boards for one enclosure and the SSB board for the other, having previously dabbled with the General Purpose kit. The filters were delivered promptly and well packaged. The performance of the modules is truly excellent and really assists on cleaning up the signal especially on rigs without narrow filtering or where the filtering isn't up to scratch. I took one of the enclosures with the SSB module in up to my father M0WJW and he was impressed by the difference it made to listening to his FT817. I would thoroughly recommend this product, which is yet more excellent innovation from G3CWI. In addition the customer service from Sotabeams is truly excellent.

Outstanding value for money!

This Filter fits my needs perfectly. I decided my mount the filter in a small plastic box so I can use it on my 817, then easily fit onto my other rigs when needed. Input level couldn't be easier to set; adjust audio level on your rig until the overload led start to flash and that's it. The noise reduction works very well and as I stated above it's perfect for me and at a very reasonable cost.

On my K2 elecraft it's perfect!

I purchased the General Purpose filter to put it on my Elecraft K2 transceiver. It's very nice! I have a very very little more white noise, but with this filter I have no "insersion loss" (Put RB12 voltage gain to groud = x4), and sound better than narrow IF crystal filter. I switch narrow/wide laserbeam filter with external switch on the back to my K2. Some pictures, on my website here: http://f4egx.blogspot.fr/2016/06/laserbeamfilter-from-sotabeams-to-my-k2.html

Excellent value ... I love this little filter !

I purchased the General Purpose filter (300 Hz CW, 2.4Khz SSB) with the intent to put it into a small plastic project box and power it by a 9V battery (which I did), so I could use the filter on various rigs that I own. Performance is Excellent and the current draw is very low so powering it from a 9v battery is a great option. It is also small enough that it could easily be mounted inside almost any rig. I have found that the insertion loss of having the filter inline is minimal and the output is sufficient that an additional audio amp is not required even for cheap headphones. It may be required for an external speaker. Overdriving the input to the filter is not an issue as it is protected and the audio-out level is well beyond comfortable listening at the point where the (optional) LED indicating overdrive comes on, so there is no concern about overdriving it at reasonable volume levels. Likewise the filter still works well even at a low volume level (what is not to like about this filter !!! ). It is also worth mentioning that there is no noticeable processing lag (i.e. on CW you hear the rig sidetone with no perceivable delay) so it works very well for CW. Overall I give this a 5 because it exceeds my expectations in performance and price. This is a great add-on for any rig lacking sufficient filtering and it even makes listening more pleasant and less fatiguing on radios that I own (like my K2) that already have good IF filters.

Outstanding CW digital AF filter

My review at https://ct1dbs.wordpress.com/2016/05/11/wow-sotabeams-digital-audio-filter/ Excerpts "First tried to change bandwdith with the switch. Wow! I even called Mrs DBS to notice the difference! I had 3 stations in my headphones but when I narrowed the filter 2 are missing. And now the small frequency steps aren't useless…" "For sure, it will be used in some SOTA activations, especially in those ones that occur simultaneously with CW contests! Another good job from Richard G3CWI!" TNX es 73 de Pedro, CT1DBS/CU3HF

Laserbeam filter - general purpose and CW

I thought the filters in my K2 were pretty much impossible to get any better. I put this in a neat little box external to the rig, put a lead from the external mic socket to the Laserbeam filter and then a pair of headphones. It just cuts all the back ground noise out leaving a nice clear signal, both on SSB and CW too. I am well happy with the results and another great addition to your range.