HF Antenna Traps V3.0 (sold in packs of two)
Make your single-band antenna into a multibander with our lightweight antenna traps
We like to think that our new HF trap kits are a rather clever design. Their flexible mounting arrangement makes using them so easy!
SOTABEAM traps come in two power levels, 20 Watts and 100 Watts (see our tiny Pico Traps for 10 Watts). Each kit includes two (2) traps.
You decide on the frequency when you build them; recommended range 7 - 25 MHz. Alignment can easily be done using an antenna analyser if you don't have access to other test equipment.
Using Traps
Traps can be used in two ways:
1) By using a trap resonant on the higher frequency that you want your antenna to work on, traps work as an effective isolator. In this application, the trap needs to be resonated in the band. This configuration makes the antenna easy to adjust as the sections do not interact much. In this configuration, our traps show a loss of typically < 0.7 dB.
2) By using a trap resonant between the two bands that you want to use (typically 1 to 2 % percent below the band edge of the higher band), losses are reduced but adjusting the antenna is much more difficult as the two sections interact. In this configuration our traps show a loss of typically < 0.3dB.

We recommend that you resonate your traps at the lowest edge of the band that the trap is to work at. So for a 20m-40m dipole, resonant your trap at 14.0 MHz. This tends to be a reasonable compromise between trap loss and ease of antenna adjustment.
Our traps can be used either way, it's your choice.
This article gives some useful tips on using antenna traps.
W8JI is an authority on all aspects of antenna design - including traps.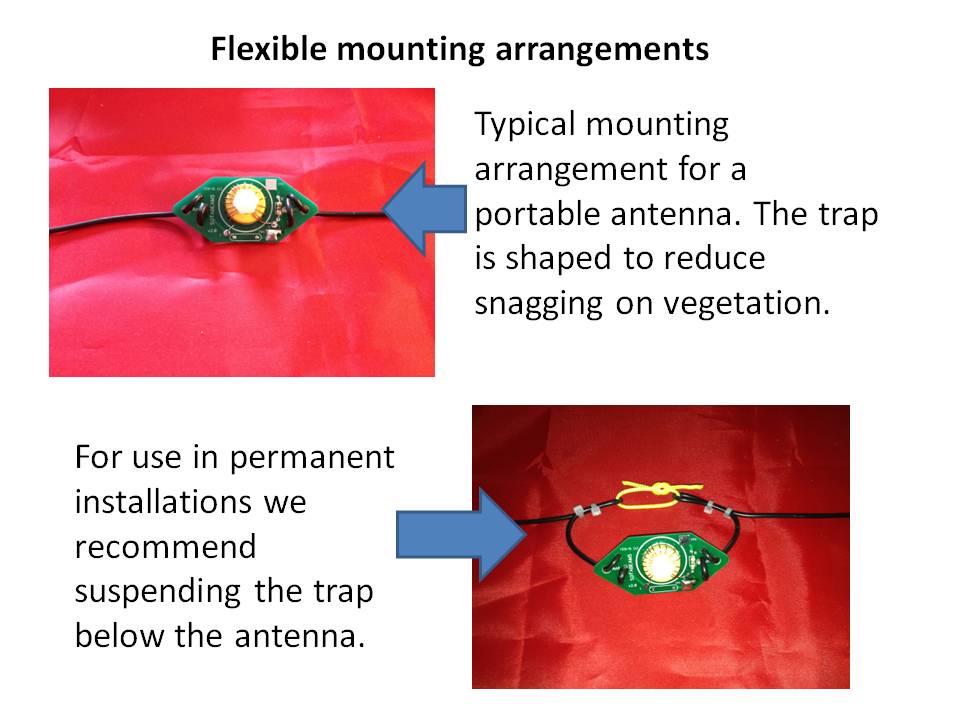 What's included in a SOTABEAMS Trap kit?
2 x high quality trap PCBs with plated through holes
4 x 100pF 1kv capacitors (used in series or parallel to give 50pF, 100pF and 200pF options)
2 x mounting hardware for toroids
2 x toroids (T94-6 for 100W and a lighter T68-6 toroid for 20W)
Enamelled copper wire to suit the power level
Downloadable instructions

Testing Traps - video

We recommend our Liquid Electrical Tape for final waterproofing of your traps.
Specification
PCB Length 66mm Width 30 mm
Loss < 0.3 dB
Impedance at resonance typically 20,000 Ohms
Weights per trap: 20 W traps 13g (0.46 oz.), 100 W traps 24g (0.85 oz.)
Weight may decrease due to number of capacitors used and turns of wire.
Other options
For even smaller traps see our Pico Traps

Also available from our international agent(s):
They worked well and were comparatively easy to make. Only issue was having to solder two capacitors in parallel with only one pair of holes. Next pair, I will substitute one capacitor only for 40M. [Admin: Thanks for your good review. You can, of course, substitute your own capacitors. Make sure they are proper RF ones such as silver mica. Cheap high voltage ceramic caps will not work in this application.]

Easily assembled and fun to test. Both bands showed very low SWR.

Easy to build works fine! by SV2HSZ

i am really impressed for this kit of 100w traps i made test with my analyser and find realy response to the frequency tnx i think is Value for money this choice no tunner anymore!!!

I purchased these traps to prepare an antenna for field day. Components and building instructions are excellent, easy to build and meet my expectations. Thanks for these great parts not available elsewhere... 73 de Ignacio

Very simple and easy to tune

Construction was easy and using my antenna analyser got the traps resonant on 14.0Mhz for a 40/20m dipole. After some juggling with the wire lengths the antenna gave me 1:5.1 on 40 and 20m and it works well with my QRP rig. Good purchase.

Smart design, lightweight, easy to make trap dipole.

Easy to assemble, but had to take off a turn on the toroid from the suggested in instructions. Used an antenna analyser AA-54 to tune the traps, this worked well.

I purchased the 100 watt version traps to build a 40/20/17m vertical antenna. Easy to construct with good quality parts. Getting the . correct trap frequency for 20m and 17m was a bit tricky - otherwise I would give it a 5*. Was a few 100 kHz lower than 14.0 and 18.0 MHz causing some interaction on the antenna. But it all worked out OK with a successfully built antenna. I would happily buy these kits again and recommend them. For the size, weight and overall quality, it would be hard to beat.

In my 50 years as a ham i never did anything with trap antennas so thought these trap kits might be fun to try. They are easy to build and tune using an mfj 259. The small circuit board is top quality with plated thru holes, easy to work with and solder. The components are similarly top grade.