HF Antenna Traps V3.0 (sold in packs of two)
Make your single-band antenna into a multibander with our lightweight antenna traps
We like to think that our new HF trap kits are a rather clever design. Their flexible mounting arrangement makes using them so easy!
SOTABEAM traps come in two power levels, 20 Watts and 100 Watts (see our tiny PICO TRAPS for 10 Watts). Each kit includes two (2) traps.
You decide on the frequency when you build them; recommended range 7 - 25 MHz. Alignment can easily be done using an antenna analyser if you don't have access to other test equipment.
Using Traps
Traps can be used in two ways:
1) By using a trap resonant on the higher frequency that you want your antenna to work on, traps work as an effective isolator. In this application, the trap needs to be resonated in the band. This configuration makes the antenna easy to adjust as the sections do not interact much. In this configuration, our traps show a loss of typically < 0.7 dB.
2) By using a trap resonant between the two bands that you want to use (typically 1 to 2 % percent below the band edge of the higher band), losses are reduced but adjusting the antenna is much more difficult as the two sections interact. In this configuration our traps show a loss of typically < 0.3dB.

We recommend that you resonate your traps at the lowest edge of the band that the trap is to work at. So for a 20m-40m dipole, resonant your trap at 14.0 MHz. This tends to be a reasonable compromise between trap loss and ease of antenna adjustment.
Our traps can be used either way, it's your choice.
This article gives some useful tips on using antenna traps.
W8JI is an authority on all aspects of antenna design - including traps.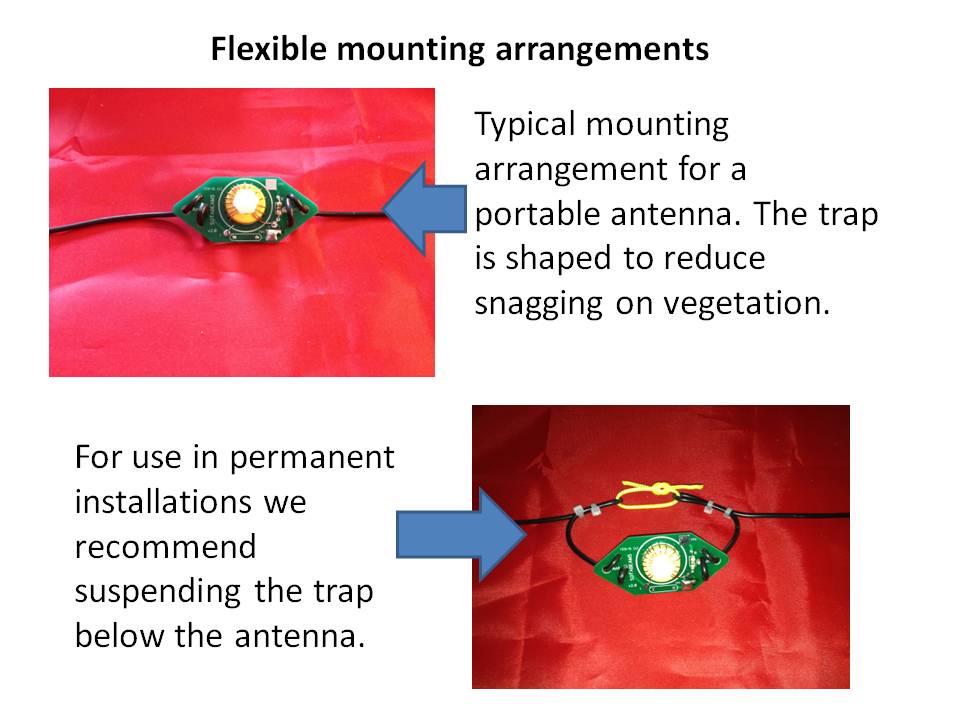 What's included in a SOTABEAMS Trap kit?
2 x high quality trap PCBs with plated through holes
4 x 100pF 1kv capacitors (used in series or parallel to give 50pF, 100pF and 200pF options)
2 x mounting hardware for toroids
2 x toroids (T94-6 for 100W and a lighter T68-6 toroid for 20W)
Enamelled copper wire to suit the power level
Downloadable instructions

Testing Traps - video

We recommend our Liquid Electrical Tape for final waterproofing of your traps.
Specification
PCB Length 66mm Width 30 mm
Loss < 0.3 dB
Impedance at resonance typically 20,000 Ohms
Weights per trap: 20 W traps 13g (0.46 oz.), 100 W traps 24g (0.85 oz.)
Weight may decrease due to number of capacitors used and turns of wire.
Other options
Our HF Traps are also available built - click here.
For even smaller traps see our NEW PICO TRAPS
Also available from our international agent(s):
Easy to built (very good instructions on website) and easy to tune with a FG-01 Youkits analyser.

Easy to build. Customer support is great !

I have bought several of these kits. I had some problems with the capacitors, but customer support found out and everything works great now. For 14MHz I had to remove one of the turns(100W) to resonate with the Silver Mica capacitors. No worries, but a antenna analyzer is needed to make your traps the way you need. Great quality of the PCB. It will last for long!

I bought these traps to try out a W3DZZ antenna, as I like the frugality of it and this equates to lightness in the backpack! The instructions for W3DZZ traps include a lot more turns than for their intended use and I wondered if the winding wire was long enough. I should not have worried! A lot of thought has gone into these traps, and the result is to my mind a quality product. Only two issues; the enamelled wire needs a lot of heat to melt the insulation - I still use lead solder - and the availability of these kits is making me lazy! Looking forward to testing them.

Weel designed - Easy to build

Build the traps are so simple! You did again good job ! Thanks

Well designed & made traps

I built the traps per the instructions and had no problem tuning them to the frequency I wanted using a MFJ 259B analyzer. I never was successful in getting a multi band dipole to work with them. The PCB that the traps are built on are very rugged to withstand my many attempts with soldering and unsoldering the series to parallel trap jumper and adding and removing turns on the coil to change frequencies. I finally gave up but will return at a later date to try and make it work.

Excellent ,easy to build even when the eyes are not quite what they used to be. Works very well

I made up two traps for 20M, the only thing that stops me giving them 5 stars is that the table for calculating the turns was, for me, a bit off. I found I had to take off two turns which, when you have already soldered the wire on the torriods in, is a bit of a nuisance. The tuning system is a great idea and I found it quite easy to test the 1st trap, sort out the number of turns needed, and then use this for the 2nd trap to get a matched pair. One other thing, if you decide to go for the 'low loss' trapped dipole, where the traps are tuned below the bottom of the higher band, then expect to have a few trial runs to get the antenna to be properly resonant on both bands. It does warn you of this in the instructions, which is why I'm not blaming the traps for this fact. For this reason, if you are going to use the liquid tape on them, make sure the antenna works before you seal them in as unsoldering will be difficult after smothering them in the liquid.

I've just completed a pair of matched traps for 17m. This is a very neat bit of kit at a reasonable price It's very easy to produce a matched pair of traps using the test points on the PCB for your antenna analyser. The PCB construction is very good, the rest is up to you! I managed to achieve 'text book' dip on 17m with my AA200, the next step is to build the dipole etc. The advantage of these trap kits is that the toroids can be taken out and re-wound for another frequency very easily, all the instructions are in the download from the Sotabeams website.

Handy traps for multiband antennas

SOTABEAMS has done it again! Their new antenna trap kit is quite unique. It combines a low price with great utility. The best part of the kit is the clever scheme for tuning them spot on. I built up several and found them easy to construct and tune. Crude testing in my house shows that they are quite close in frequency. Warmer weather will allow evaluation at my favorite qrp portable operating site. Mine were tuned "in-band". I'd like to see some detailed tuning instructions and results for out-of band tuning. By all means don't forget the protection of liquid electrical tape.