IMPORTANT NOTE: 21-October. We now recommend testing Pico Traps for resonance using a parallel resonance test. This can still be done with an antenna analyser. We have updated the trap instructions to reflect this change. The change has been made to improve the alignment accuracy which could otherwise be poor under some circumstances, particularly where antenna analysers with non-graphical displays are used (e.g. MFJ-259).
_________________
Miniature Antenna Trap Kit (pair)
Pico Traps are a great way to make a really lightweight multiband HF antenna. The ideal trap acts as an insulator on its resonant frequency band and as a wire link on all other bands.
Brilliant for ultralight 2 or 3 band antennas; dipoles or endfed halfwaves
The smallest, lightest traps on the market
Easy to adust in series or parallel modes
Super for multi-band stealth antennas
Streamlined shape to reduce snagging on vegetation
Attachment points for antenna wire. Work great with our DX-wire
Easily waterproofed with

Liquid Electrical Tape

Can be mounted inside 22 mm conduit
Weigh less than a UK 10p coin!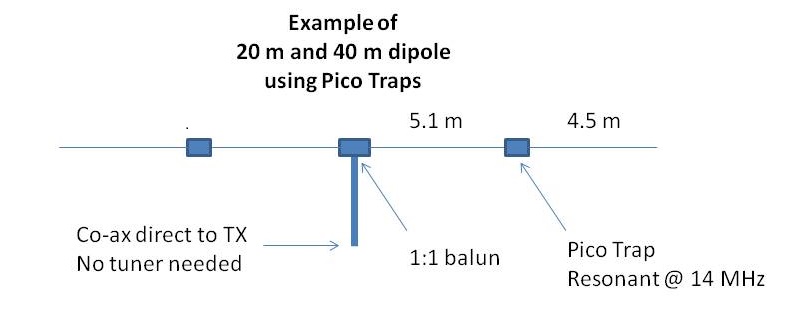 Pico Traps are also available built - click here.
NOTE: We always recommend using a balun with trapped antennas. The perfect balun for this application is the Pico Balun.
Build details from other users
Pedro CT1DBS shows how to build a neat antenna for 20-30-40m

Michel G0POT used these dimensions for his tri-bander.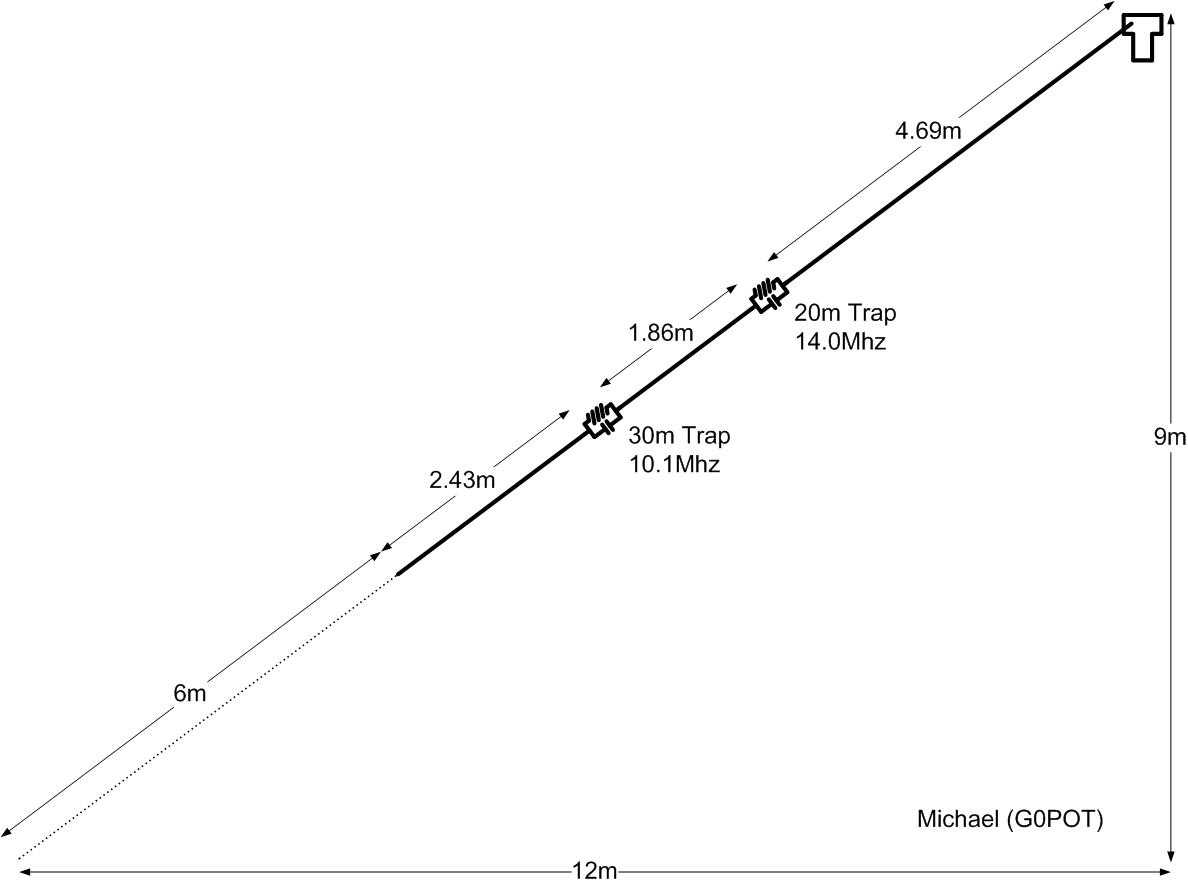 Specifications:
Size 36 x 15 mm (1.4 x 0.6 inches)
Weight - less than 5 g = 0.18 ounces
Low loss: typically less than 0.35 dB. Less than 0.75 dB worst-case.
Inductor Q > 240 @ 14 MHz [Source - MicroMetals]

Capacitor Q >> 1000 @ 14 MHz
Rp > 24,000 Ohms @ 12 MHz
Suggested resonant frequency range: 10 - 25 MHz
10 Watt rated
Perfect for use with FT-817, KX3, KX1, HB1B and other similar radios
Not sure what antenna traps are? Let me help!
Making multi-band antennas using traps
What do you get with a Pico Trap kit?
2 x High quailty Pico Trap PCBs
2 x T50-6 toroids
2 x nylon mounting kits for toroids
2 x smd 0805 High Q, Ultra-Low ESR, AVX RF capacitors (100pF)
22 swg (0.6mm) wire for toroids
Need more power?
See our 20 Watt and 100 Watt range of traps.
A note on waterproofing traps
It is tempting to use heatshrink sleeving to waterproof traps. However, our tests have shown that some types of sleeving seriously reduce the Q of traps. We know that our Liquid Electrical Tape doe not adversely affect traps. If you go down the sleeving route, check that your chosen sleeving does not spoil the performance of your traps!
Also available from our international agent(s):
SMD caps are a bit fiddly, otherwise very easy assembly. It's a good design and much more robust and compact than I could homebrew. I used them to make a 40/30/20 triband EFHW as per Michael G0POT's website, using the same FT50-43 toroidal Unun for transforming the impedance down. Works great. Have not yet enclosed or waterproofed the traps and will have to give this some thought. G0POT put the Unun in a Hammond enclosure, I found I could fit the unun in a plastic tube from a permanent marker pen, sealing the ends with epoxy. This is more compact and lighter.
I don't have an antenna analyser, but found I could tune the traps with a NanoVNA.

Easy assembly

Great product. Small and light weight. Easy to put together and tune. Makes great light weight trapped dipole or end fed.

A great QRP trap, small and lightweight. I built a trapped dipole for 40/30/20. Works great! A very useful SOTA antenna!!

I've now used 3 pairs of these to build a 17, 20, 30, 40 meter trap inverted vee for portable QRP use. They are very easy to build and fairly easy to tune. But most importantly, they work very well! I'll likely buy more and may get se of the higher power versions as well.

Hi All in all they are nice BUT, it will help if the capacitors were of calclulated values for the different bands. Wich gives a somewhat higher imoedance in the desired blocking frequency. I know very well that it is a big hasle to have multiple capacitors lying on the shelves but I would be ok with paying a bit more so I did not have to source these seperately.
Otherwise the traps function very well, I had a 3 band dipole with me on vacation recently and the pointed ends work fine in not snagging on trees.


All the best Henning OZ4XF


Used them in a 40/20 meter inverted vee for portable use with my FT-817nd. Have used in the backyard several times and an happy with them. https://www.huyettm.net/4020-trap-fan-inverted-vee-comparison.html

Prefect for portable antennas

I got the Pico traps after reading about G0POTs 3 band EFHW, having recently purchased a MTR5b I tought I would make one. The traps were very ease to construct and the instructions were great. An antenna analyser certainly helps with tuning. Very easy to build even with the tiny SMD capacitor.

Will most likely be buying more as tempted to make a 5 band EFHW!

I used a pair of pico traps to build an EFHW portable antenna for hiking with. I reported that one set of SMT capacitors were missing and they were promptly replaced without question. Tuning the traps was very easy using a YouKits antenna analyzer. Building the antenna itself was easy, and resulted in a ~65' total length with two traps that matched very well on 7.0 MHz, 10.1 MHz and 14.1 Mhz with nearly unity SWR on all three. What more could you want for hiking? I highly recommend these if you're using no more than 10 watts.